The globally renowned WZCC – World Zarathushti Chamber of Commerce – known for its service to our Community, held its 4-day (from January 2 to 5, 2020) 'Global Conclave 2020' celebration, marking the completion of nineteen fruitful years, at a glittering event in Lonavala, Maharashtra. Known to successfully promote Zoroastrian entrepreneurs and business, the WZCC conclave was attended by 200 members and guests.

Kicking off with a field visit to Pune's Tata Central Archives, courtesy the TATA organization and Global Corporate Secretary, Adi Siganporia, the group was very appreciative of the variety of well-maintained exhibits. Zubin Mistry, VP, Tata Services, and his team, shared an insightful presentation displaying how the rich legacy of Tata organization has been preserved. The next stop was Pune's Serum Institute of India – the world's largest vaccine manufacturer (based on dosage numbers) known to have saved the lives of over 20 million children globally, as also the distinction of being the World's No.1 Producer of numerous vaccines and India's foremost Biotech company. The group was delighted and inspired by Dr. Cyrus Poonawalla who singularly created this biotech giant revered globally. After the field visits, was the Pre-AGM Board Meeting at Rhythm Resort, Lonavala.

Day 2 started with a Jashan Ceremony led by Navsari's Vada Dasturji, Keki Ravji Meherjirana, who delivered a notable talk on 'The Relevance of Religion in Business', emphasizing the importance of ethical practices. Percy Master, Regional Director, India, delivered a formal Welcome Address post which the participants engaged in an interactive presentation by Diana Bharucha of Kinder Trust (Bangalore), devoted to social service work aimed at the upliftment of South India's underprivileged.
Next, two of WZCC's 'Financial Support for Entrepreneur' program beneficiaries – Cyrus Pithavala and Cyrus Mistry, shared their journeys. While Pithavala spoke of his business expansion efforts towards his one-stop solution for all Container Handling requirements located in Surat, Mistry, who works in the Lab-Grown-Diamond business, elucidated the differences between a natural and Lab Grown Diamond in terms of process, purpose and cost. Both presentations were much commended.
The Global AGM (2019) commenced in the afternoon, led by Women Entrepreneur Wing Chairperson – Behroze Daruwalla. In his Presidential address, Edul Daver extended a warm welcome, enumerating WZCC's activities across all the global chapters. This was followed by brief report presentations by Global Vice-President – Yazdi Tantra; Corporate Global Secretary – Adi Siganporia; Global Treasurer – Katayun Kapadia; Behroze Daruwalla, and others.
A novel idea was initiated during the hand-over of the torch by Capt. Percy Master, Regional Director, India Region to Dr. Zubin Sethna, UK Director, for the next Global Conclave, which will be held in May 2021 in London. The day concluded with an interesting Panel Discussion on 'Zarathoshti Business: Past, Present, Future', which was well moderated by Sam Balsara, with panelists Alayar Dabestani, Dr. Zubin Sethna, Neville Shroff and Mira Mehta.
WZCC had arranged numerous sessions covering Trade, Business, Commerce, Industry, Entrepreneurship and Professionalism. The Speed Networking Session had all participants engrossed in discussions on several tables. A separate Panel Discussion on 'Catapulting your Brick and Mortar Business with Technology as the Forefront' was conducted by Farhad Acidwala as the moderator with panelists – Pilloo Aga, Yuzdi Badhniwala and Edul Daver. Next, Nawshir Mirza, Ex-Director, Tata Power Co. Ltd., shared an interesting talk on 'Pitfalls in Business and How to Prevent the same', narrating useful and practical business principles. He emphasized on considering and caring about the geo-political scenario. An interesting Fire Chat session titled 'Her Experience as a Business-Women – Walk through her Journey' was presented by Meher Pudumjee and Viraf Deboo, where Meher spoke of the career challenges she faced.
With 'Innovation' being the buzz word, WZCC organized another absorbing panel discussion titled, 'The Importance of Innovation from Small to Multinational Firms', moderated by Lara Balsara Vajifdar, who beautifully stitched together the various facets of Innovation, with panelists – Naozer Dalal, Hormuzd Sholapurwala, Pervez Damania and Jehangir Mehta.
A second Zoroastrian Shark Tank Event organized ably by WZCC saw quite a few young entrepreneurs share their presentations to procure investments for their businesses. The Sharks (potential investors) were highly successful, well-known and accomplished entrepreneurs including Alayar Dabestani, Neville Shroff, Nadir Godrej and Cyrus Katgara. It culminated into an interesting and healthy exchange of discussions.

The 'Awards Night' was the highlight of the Global Conclave. Global President, Edul Daver, narrated WZCC's worldwide efforts, enumerating various initiatives taken, like extending financial support to potential Entrepreneurs and Professionals, organizing meetings with Honorary Members, and more. 'WZCC's Outstanding Zarathushti Awardees for 2019' were presented to:
• Outstanding Zarathushti Entrepreneur of the Year – Farrokh N Cooper, India
• Outstanding Zarathushti Professional of the Year – Cyrus F Hirjibehedin, USA
• Outstanding Young Zarathushti Entrepreneur/Professional of the Year – Pervin R Taleyarkhan, USA
• Outstanding Zarathushti Social Entrepreneur of the year – Mira C Mehta, USA
Present at the ceremony, awardees Farrokh Cooper and Mira Mehta greatly appreciated WZCC's efforts and expressed gratitude for being awarded.
Compered by Behroze Daruwalla, the Award Ceremony was presided by Guest of Honour, Dr. Ramesh Mashelkar – India's foremost Scientist and Innovation Leader. His talk on 'Creating Next Gen Pole Vaulting Entrepreneur Leadership' was one of WZCC's most inspiring talks ever. His lucid style, methodical presentation and his equation E=F (Education is Future) met with thunderous applause. He stressed the importance of hard work and 'affordable innovation'. His inspirational journey from humble beginnings to the upper crest of the Corporate World and then to the International arena, received a standing ovation.
As the event came to a close, Corporate Global Secretary Adi Siganporia felicitated members of the Central Administrative Office, for their splendid efforts. WZCC's CEO – Aspi Antia, Sr. Administrative Officer – Zarine Khan, Administrative Officer – Aban Mistry and Office Associate – Urvax Chawda were also honoured with a loud applause for their sincerity and commitment. Siganporia proposed the Vote of Thanks to all individuals and institutions for their support and involvement promoting WZCC's activities. The National Anthem, followed by cocktails and dinner, concluded the conclave.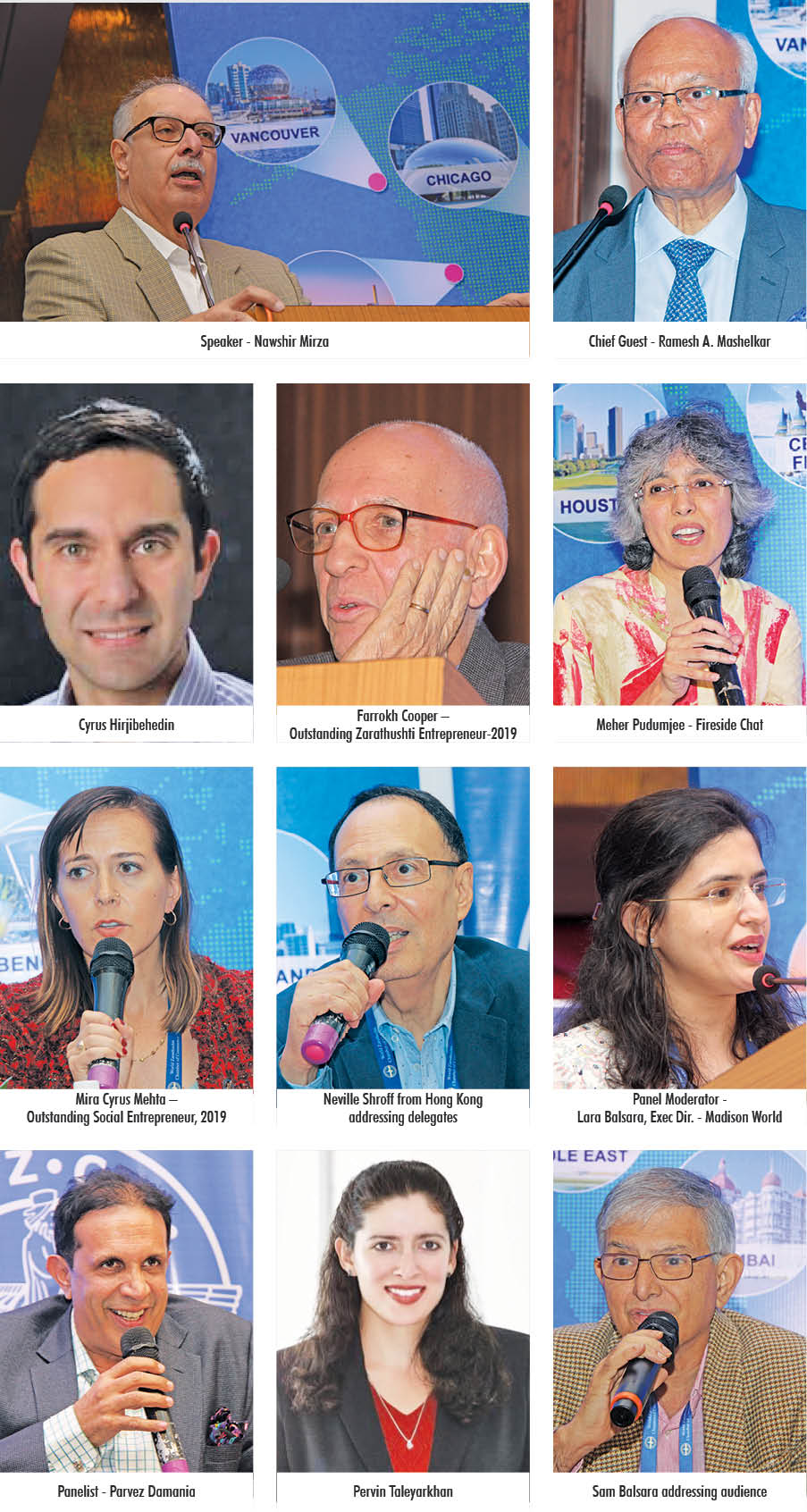 Latest posts by PT Reporter
(see all)