The eve of 6th February, 2020, marked the press launch of the book, 'Honour Bound – Adventures of an Indian Lawyer in the English Courts' authored by Indian-born and London-based, Sarosh Zaiwalla – Founder and Sr. Partner at Zaiwalla & Co., International Lawyer, Arbitrator and Mediator. The event, which took place at the Mumbai Press Club, saw over a hundred attendees. Present on the dias with the author were leading businessman Adi Godrej, Ashis Ray – London-based broadcaster and foreign correspondent, popular columnist Bachi Karkaria and Krishnan Chopra, Editor, Harper Collins.
'Honour Bound' is a chronicle of Sarosh Zaiwalla professional adventures in the English courts. His memoirs recall successes in over a thousand international arbitrations and litigations. His high-end litigation cases include those at all levels of the English courts, as well as notable successes in the Supreme Court. The book looks back on his career – from his passage to England at a time when diversity had barely begun to take root in its legal circles, to now leading a groundbreaking law firm. It celebrates the story of a solicitor who made his way on his own terms, with creativity, but without ever compromising on his values.
The event started with Krishnan Chopra introducing the author and sharing, how since idea of the book was birthed in Bombay, it was initially to be named 'Bombay Boy'. Zaiwalla moved to London in the mid-'70's and started his legal practice, winning several cases for the Indian Government and other famous personalities. The resistance he experienced initially in London helped frame his career. Zaiwalla and Co. have taken on over 1,200 high profile cases from across the world, though he specializes in Maritime law and Arbitration.
This was followed by Adi Godrej launching the book, as the crowd cheered. "It is a great honor to release the book as its title is completely reflective of Mr. Zaiwalla's practice in London! It's a well written book which shows the difficulties of starting a new business in a new country. It is also very anecdotal," said Adi Godrej, wishing the author the very best.
Speaking on the occasion, Bachi Karkarkia stated, "It's a fabulous book which I thoroughly enjoyed reading mainly because of its array of characters from the Bofor's case including Amitabh and Ajitabh Bachchan, as also the mafia from Canada, and other matters relating to the Indo China border."
Sharing his beliefs, Sarosh Zaiwalla said, "I only believe in mankind. Colour does not matter. Politics is second to what is truly important for a country – its economic prosperity. Everyone should be able to get the basic necessities of food, clothing and shelter. These principals are largely followed by China and therefore I respect China, though I have always worked for the Indian Government."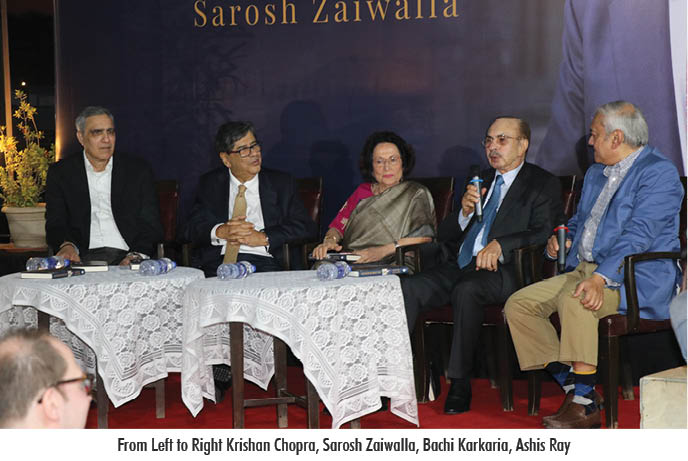 A question and answer session proved as insightful as the discussion by the dignitaries on the dais, about Zaiwalla's various interesting cases – including Bofors, the Mafia, meeting Rajiv Gandhi, Narsimha Rao, V P Singh, Amithabh and Ajitabh Bachan, and the Dalai Lama; but one of the more exciting ones was restoring the Nataraj idol back to India from London, on the basis that the Nataraja was an entity on its own and had every right to return to its place of origin, its home – India!
Zaiwalla further spoke about his life in London, experiencing one good decade and then, another challenging one, and how the latter only made him stronger. He emphasized the need for improvement in the Indian legal system and that it should come from within, so that cases do not stack up. "The government can't do much until each lawyer practices with honesty and works towards sincerely improving the legal system at large," he concluded.
After a vote of thanks to all, the evening ended with socializing over cocktails.
Sarosh Zaiwalla is a Parsi lawyer from Dahanu, who studied at St. Xavier's High School, Bombay; and graduated from the Government Law College in 1972. He founded the now 35-year-old 'Zaiwalla & Co. Solicitors' in London, in April 1982, and shares his expertise as its Senior Partner. Today, the firm is one of the globally leading firms in the field of International Arbitration.
 'Honour Bound – Adventures of an Indian Lawyer in the English Courts' is a riveting, 265-paged memoir, available in hard-bound and paper-back editions, available at all leading bookstores and online on Amazon.com
Latest posts by PT Reporter
(see all)