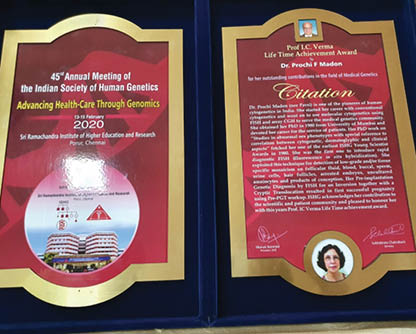 On 14 February, 2020, Dr. Prochi Fali Madon was felicitated with the prestigious 'Professor I C Verma Lifetime Achievement Award', at the 45th Annual Conference of the Indian Society of Human Genetics (ISHG), held in Chennai. Dr. Prochi shares her expertise as an Honorary Consultant Geneticist at Jaslok Hospital and Research Centre, Mumbai, in the Department of Assisted Reproduction and Genetics, headed by Dr. Firuza R. Parikh.
The daughter of Aloo and Nariman Pavri, Dr. Prochi started her career in Human Genetics in 1973, after completing her M. Sc. and obtained her Ph.D. in Applied Biology in 1980 from Grant Medical College, where she set up a Genetic Clinic after training in B J Medical College, Pune. Her speciality is Cytogenetics, the study of chromosomes. After working with other institutes, she joined the IVF Department at Jaslok Hospital in 1999 and set up the Genetics and PGD laboratory, with colleague, Dr. Arundhati Athalye. Besides genetic tests in infertility, high risk pregnancies and children with developmental delay, the lab also offers diagnostic tests in cancer, mainly leukaemia.
After a brief training in PGD (Preimplantation Genetic Diagnosis) by FISH in New Jersey, Dr. Prochi was one of the first professionals to offer this rapid diagnostic test in India. She was a member of Dr. Parikh's team which reported the first livebirths in India after PGD by FISH on single cells of embryos which were at risk of carrying unbalanced chromosome translocations and inversions. Dr. Prochi also specializes in Genetic Counselling, especially in couples who have a history of a genetic abnormality in the family.
Parsi Times catches up with Dr. Prochi Madon…
PT: How does it feel to receive this prestigious honour?
Dr. Prochi: I am so happy, yet humbled. It is a privilege to receive this prestigious award.
PT: What inspired you to pursue a career in the field of Cytogenetics?
Dr. Prochi: As a child, I was fascinated by Chemistry, while seeing pictures of colorful test-tubes and flasks with boiling liquids! However, for graduation I preferred Biology and got deeply interested in chromosomes of onion root-tips in various stages of cell division. After completing my M.Sc. in Botany with Cytology and Genetics in 1973, I got an opportunity to learn Cytogenetics, or human chromosome analysis, in Pune. Six months later, I was asked to set up a Genetic Laboratory in JJ Hospital, where we were located in the Pharmacology Dept, in the old heritage building. I attended the first conference of the Indian Society of Human Genetics in 1974, presented my first paper there, and went on to do Ph.D. in Applied Biology from Grant Medical College.
PT: Tell us more about the significant role played by Cytogenetics today
Dr. Prochi: In the days when I started out, we mainly checked for common conditions such as Trisomy 21 in Down Syndrome and sex chromosome abnormalities in infertility. Soon, many chromosome banding techniques developed, which could detect translocations or exchanges of parts of chromosomes, causing repeated miscarriages, or developmental delay and congenital malformations. Then came the FISH (Fluorescence In Situ Hybridization) procedure of counting coloured dots which could quickly detect various chromosome abnormalities, even in cancer, helping doctors start the appropriate treatment. Now, even minute anomalies of all chromosomes are checked at the DNA level by chromosome microarray. This method and Next Generation Sequencing (NGS) are now used during some IVF procedures to test embryos and select the normal ones for transfer, especially in women over the age of 35 to improve the chances of success. Currently, Molecular Genetics is widely used to detect abnormalities at the gene level. Doctors and genetic counsellors select appropriate tests for different cases.
Latest posts by PT Reporter
(see all)