Parsi Times is delighted to welcome Veera Sanjana aboard our fabulous team of outstanding and talented writers! Veera is a published Author ['Endured' and '#LoveBitesLifeHacks'] and Columnist; a passionate Educator and Counsellor; Poet and Philosopher… but most of all, a lover of all things literary.
 As we welcome the Navroz week of 2020, us Parsis still definitely rate as India's most colourful but fastest dwindling community; our cultural heritage, ethnicity, vibrancy – all rapidly under imminent danger, with our headcount gradually petering out. Life without this small race, over-brimming with its idiosyncrasies, eccentricities and manageable lunacy, will seem bereft of flavour, passion and flair. As we celebrate Navroz, the fear remains and the question persists, "For how long?" While our legacy of dhansak and chicken farchas, patra-ni-macchi and sali-boti will stay on a lot longer than our cute little Dorabs and Sorabs, Aloos and Villoos, we forge ahead today with our Iranian brethren to celebrate another Navroz!
Back in the days when Navroz was celebrated, the Iranis were homogeneously Zoroastrians, thus Navroz was celebrated as the single, Persian New Year. However, over time, the Zoroastrians in India or Parsis celebrate Navroz in the month of August, and our Iranian brethren on March 21st – coinciding with the vernal Equinox and the onset of spring. It is said that when two Parsis meet, there's bound to be conflicting opinions on the same subject!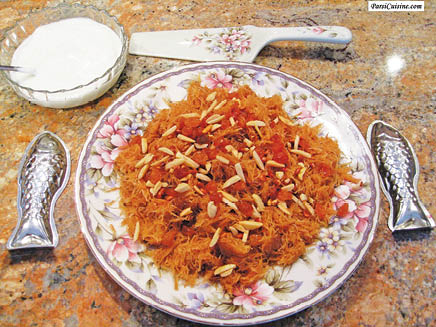 21st March marks the beginning of spring and is celebrated as a secular festival in many countries the world over, but for Zoroastrians it is a holy day. An interesting point to note is that during the meeting of the Inter-governmental Committee for Safeguarding of Intangible Heritage of the United Nations, held back in 2009 in Abu Dhabi, Navroz was registered officially on the UNESCO List of the Intangible Cultural Heritage of Humanity.
This New Year is going to be no different than the ones previously celebrated in every household, across cities in India. For me, Navroz always held a special place, the day inevitably marked by a small list of must-do things that make Navroz a festival of joy and pleasure, and the day – memorable and cherished.
The morning starts off sprucing the house all dressed up in its resplendent glory and in Parsi-perfect order. As most Parsi ladies embrace their borderline OCD (Obsessive Compulsive Disorder), the house may require a tad bit more attention than the usual required, to shine those floors and polish those tables, in a manner where one's reflection can be espied on all those shiny surfaces easily – mirrors aren't the only equipment required for the same, in most Parsi households! Those old marble floors and tiles do belie their age, and wear, much like our women and cars. All followed by the auspicious Ses and Sagan, chowk and torans, fresh flowers in every room, earful of instructions to the household help and anyone bold enough to be in and around the house during this time!
The men in the house, preferring the quiet of the morning hour, laze over their tea and morning paper, as is their routine, only anticipating delightful servings of Sev or Ravo… but find themselves unwittingly  accosted  with the  chaos of all that spring-cleaning! With Navroz heralding the onset of Spring, the forceful, unapologetic demands of that whimsical broom, errant duster and petulant hoover, render those male murmurings inaudible over all that din! Their soft  protests and displeasure  – at playing musical chairs amidst the chairs, the chaise lounge and sofas strewn around the living room – soon turn to grunts of displeasure and noticeable signs of distress, probably causing unavoidable spikes in their blood pressure as well! Wisely, they decide to leave the premises before their marching orders are given!
Some, not to be outdone, even decide to join the cleaning-party, lavishing the same kind of rapturous attention to their automobiles parked in and around where they live. Once the house is spic and span, all in accordance to the discerning eye of the lady of the house, she walks from room to room, surveying her handiwork with a pleased grin of a Cheshire cat, oblivious to the grunts and groans of the battalion that served her that day, complacent in the knowledge that it's nothing some generous tipping to the staff, and a blind eye to her husband's happy inebriated state that evening, won't cure!
And so, it's time for all the festivities to unfurl for the day. Here, we notice a marked difference between our Parsi folk and our Iranian brothers. The laying of the table is perhaps the most integral part of their rituals. It is resplendently laden with the seven items starting with the sound of 'sh' symbolic of spring and renewal. Drop in and visit your nearest Irani friend and pay your respects to the table and while you hold that mirror up seeking blessings and favour for the coming year, make sure the Coronavirus takes precedence over all else! Pray in earnest that the virus does not afflict our dearest Zyres or Cyrus, for miniscule in digits are we, frail and puny in numbers and progeny, so this year it's not about the races, definitely not the scrips, and not for the wins at the Poonawalla Million, but most certainly for the Poonawallas to win with their Serum Institute's vaccine that's putting our Parsi mark on the globe again, or at least have the current population continue doing so!
While half the world turns vegan or vegetarian and images of men biting into rats and bats go viral, holding us all in hypnotic revulsion, I wonder the effects of the same on the insouciant irreverence that marks a Parsi taking nothing too seriously – least of all, his diet, with Bheja and Paya, Kaleji and Bucca, all part of his staple diet and palate! So with Navroz, we continue our love of all things food with Dhaan-Dar-Patio, Sali-murghi, Farcha and fish, with no abstinence or restrain. Thinking nothing of it, except going straight ahead with that melting mood of the celebratory spirit, which fortunately  endures throughout the year, we slowly and blissfully waltz our way into another year of saturated pleasures and endless delights, forever grateful, as we count our blessings while we continue to whet our appetites and wet our whistles!
Jamshedi Navroz Mubarak to all!
Latest posts by PT Reporter
(see all)