Delzad K Avari is a Le Cordon Bleu, London Alumni.

His love for cooking was evident from a very young age. Having completed the Grand Diploma in cuisine and patisserie from the London campus, post his Hotel Management degree from Mumbai's Sophia Polytechnic. His expertise has been honed with rich and varied experiences including his stints with the Taj Mahal Palace and Towers (Mumbai); a Food Producer with Masterchef India – Season 2, followed by Dubai and the Maldives; and more recently, as a Sous Chef in Trinidad and Tobago in the Caribbean!

Back home in Mumbai, he currently runs his own home chef set-up, greatly gaining in popularity, named, 'Del'z Kitchen'- an absolute go-to for all meat-lovers! Delzad also shares his expertise in Restaurant Menu Development and Consulting for his recent project – 'Tiger Lily', an upscale restaurant in Hyderabad. He has recently begun his own YouTube channel, titled 'Chef Delz', which is tasting great success! [Chef Delzad's Insta – Personal: @chef_delz  &  Work: @delzkitchen]. We welcome suggestions, queries and requests for recipes from our readers at editor@parsi-times.com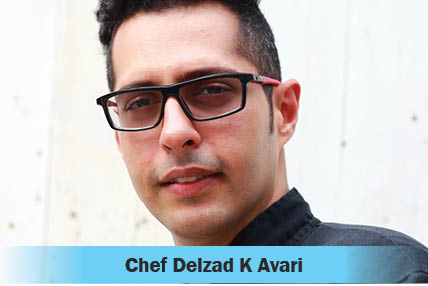 This week, Chef Delzad two delicious and refreshing cocktails to help you beat the summer heat! Those who prefer non-alcoholic drinks, can skip adding the alcohol and turn it into a yummy mocktail!
Gin 'n' Melon Cooler 
Ingredients:
Water-melon – ¼ small; Mint – 5 – 6 leaves; Gin – 45 ml; Lime juice – 1 tsp; Simple syrup – (recipe given below) if needed – 1 tbsp; Soda – to top up; Ice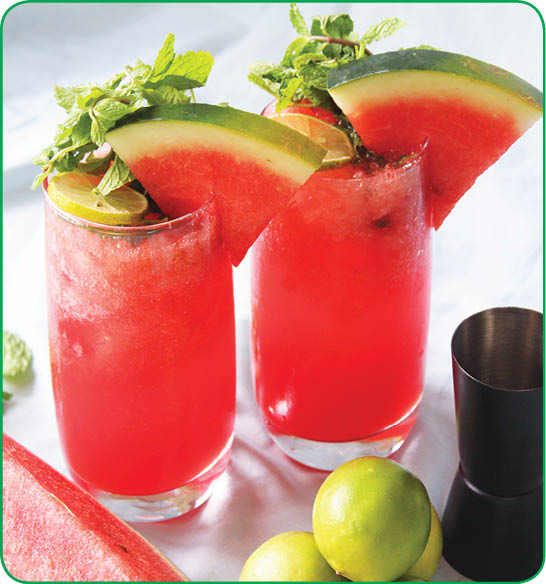 Method:
Blend the watermelon in a blender, keeping it slightly pulpy, add simple syrup if you feel the watermelon is not sweet enough.

Fill a tall glass with ice 

Pour 100 ml of the pulpy watermelon juice over the ice

Slap the mint leaves between your palms and add it to the glass

Pour the gin over and top with the soda

Give a little stir and serve!
Simple Syrup:
Ingredients: Sugar – 100 g; Water – 100 ml.
Method: Bring to a boil. Cool before using
---
Fruity Summer Bliss
Ingredients: 
Fresh orange – 1 small; Fresh pomegranate – ¼ medium; Mint – 6 leaves; Mixed fruit juice – 100 ml; Strawberry syrup (optional) – 1 tsp; Vodka/White rum – 45 ml; Soda – to top up; Ice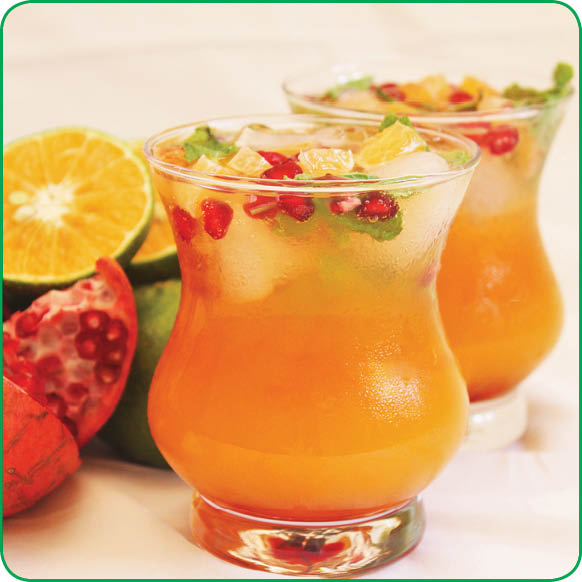 Method:
Separate the pomegranate seeds, peel and chop up the orange

Put them in a whisky tumbler or short glass, muddle using a muddler or just a wooden spoon

Slap the mint leaves and add them to the glass

Top the glass with ice

Pour the Mixed fruit juice and vodka/white rum over the ice

Top up with the soda and pour the strawberry syrup over the top

Give a little stir and serve!




---
Latest posts by PT Reporter
(see all)