Delzad K Avari is a Le Cordon Bleu, London Alumni.

His love for cooking was evident from a very young age. Having completed the Grand Diploma in cuisine and patisserie from the London campus, post his Hotel Management degree from Mumbai's Sophia Polytechnic. His expertise has been honed with rich and varied experiences including his stints with the Taj Mahal Palace and Towers (Mumbai); a Food Producer with Masterchef India – Season 2, followed by Dubai and the Maldives; and the and more recently, as a Sous Chef in Trinidad and Tobago in the Caribbean! 

Back home in Mumbai, he currently runs his own home chef set-up, greatly gaining in popularity, named, 'Del'z Kitchen'- an absolute go-to for all meat-lovers! Delzad also shares his expertise in Restaurant Menu Development and Consulting under his project 'Tiger Lily', an upscale restaurant in Hyderabad. He has recently begun his own YouTube channel, titled 'Chef Delz', which is tasting great success! Says Delzad,"Being a chef is not glamorous as people think, one should have a passion for food and I think I have made the right choice!" [Chef Delzad's Insta – Personal: @chef_delz  &  Work: @delzkitchen]

Parsi Times is thrilled to welcome Chef Delzad as our Chef Extraordinaire to lead our community into Greater Gastronomi Galas with PT's 'Chomp & Cheers'! We welcome suggestions, queries and requests for recipes from our readers at editor@parsi-times.com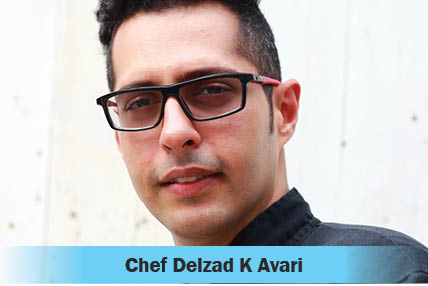 Chef Delzad kicks off… err cooks off.. the series with two lip-smacking dishes – Chicken Mahiwara and Salted Caramel Chocolate Walnut Brownies. 
.
Chicken Mahiwara
Ingredients:
Chicken breast (cut in thin strips) – 250g; Chopped onions– 2 small; Chopped tomatoes – 2 medium; Chopped green chillies – 3 to 5 nos.; Ginger Garlic paste – 1 tbsp; Chopped coriander – 1 tbsp; Chopped cashews – 1 tbsp; Chopped almonds – 1 tbsp; Raisins – 1tbsp; Cream – 1 cup; Dhana Jeera powder – 1 tsp; Haldi powder – ½ tsp; Chilli powder – 1 tsp; Salt – to taste; Eggs – 4; Oil – 2 tbsp
Method:
Heat oil in a frying pan, add the onions and cook them till brown.

Add the tomatoes and cook till they soften.

Add the powdered spices and chopped chillies. 

Cook till oil begins to leave the mixture.

Add the chicken strips and sauté till they have cooked through.

Mix in the chopped nuts and cream.

Simmer till the mixture thickens and sprinkle chopped coriander. 

Pour beaten eggs on top of the mixture. You can keep the eggs whole if preferred.

Cover and let the eggs steam on low heat, till they are cooked. (Should take around 5 – 7 minutes) 

Cut up and serve hot!
.
.
Salted Caramel Chocolate Walnut Brownies
For the Salted Caramel:
Ingredients:
Sugar – 150 gm; Cream – 60 ml; Butter – 60 gm; Sea salt – 5 gm; 
Method: 
Heat sugar in a pan with a touch of water. Keep cooking and stirring till it reaches a golden brown colour. Reduce the head and gradually mix in the cream. Turn off the heat and mix in the butter. Finally stir in the sea salt and leave aside to cool.
For the Brownies :
Ingredients :
Caster Sugar – 385 gm; Eggs – 5; Butter – 265 gm; Dark Chocolate – 300 gm; Sliced walnuts – 60 gm;
Flour – 265 gm
Method:
Melt chocolate and butter together and keep aside (allow to drop to room-temperature).

Whisk eggs and sugar together till frothy.

Add the chocolate mixture to the egg mixture and whisk together.

Add the flour and fold into the batter, do not over mix.

Pour the liquid caramel over the brownies and swirl up the batter using a toothpick.

Sprinkle the sliced walnuts on top.

Bake in oven at 170 – 180 C for 35 to 40 mins, depending on the size of the oven.

When the cake is set in the centre, it is ready (test with toothpick)

Remove from the oven and cool in the pan

Once cool, cut in pieces. Serve warm
Latest posts by PT Reporter
(see all)