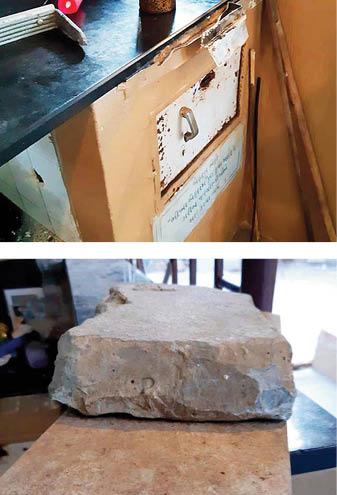 On 25th April, 2020, at around 6:30 am in the morning, an unsuccessful robbery attempt was made at the heritage Bhikha Behram Well, located near Cross Maidan in South Mumbai. Due to the ongoing Lockdown, the religious site has remained shut and is not open to worshippers. The caretaker of this Grade I heritage site, Nadar Tangree, went to check up and clean the well as is his usual practice since the lockdown. He saw that there had been an attempt to break open the donation box using stones and also drilling of a hole. The donation box is screwed into one side of the wall. 
Trustee Homiar N Vakil shared that this was a serios attempt as two heavy stones were used – and could possibly be the agenda of construction workers; and that it could be more than one person who attempted this crime. A police complaint has been filed at Azad Maidan. Though there is CCTV coverage at the spot, it is difficult to access during the lockdown. However, in due time, surveillance will reveal what exactly happened. 
In addition to being one of Mumbai's most popular religious site for Parsi/Irani Zoroastrians, the Bhikha Behram Kua is one of Mumbai's oldest sunken sweet water sources and a Grade I heritage structure, built in 1725.
Latest posts by PT Reporter
(see all)