Delzad K Avari is a Le Cordon Bleu, London Alumni.

His love for cooking was evident from a very young age. Having completed the Grand Diploma in cuisine and patisserie from the London campus, post his Hotel Management degree from Mumbai's Sophia Polytechnic. His expertise has been honed with rich and varied experiences including his stints with the Taj Mahal Palace and Towers (Mumbai); a Food Producer with Masterchef India – Season 2, followed by Dubai and the Maldives; and more recently, as a Sous Chef in Trinidad and Tobago in the Caribbean!

Back home in Mumbai, he currently runs his own home chef set-up, greatly gaining in popularity, named, 'Del'z Kitchen'- an absolute go-to for all meat-lovers! Delzad also shares his expertise in Restaurant Menu Development and Consulting for his recent project – 'Tiger Lily', an upscale restaurant in Hyderabad. He has recently begun his own YouTube channel, titled 'Chef Delz', which is tasting great success! [Chef Delzad's Insta – Personal: @chef_delz  &  Work: @delzkitchen]. We welcome suggestions, queries and requests for recipes from our readers at editor@parsi-times.com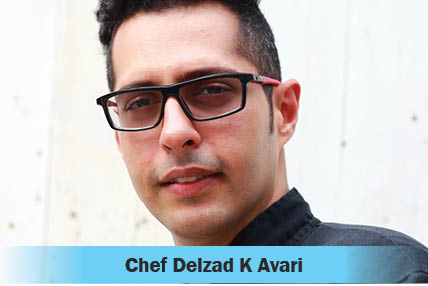 In keeping with the glorious mango season, this week, Chef Delzad brings you two amazing mango recipes to make and bake at home!
Rum And Mango Pie
Ingredients For The Crust:
Flour – 230 g; Butter – 115 g; Eggs – 2 small; Salt – 5 g; Castor Sugar – 10 g 
Method:
Ensure that the butter is hard and cold, helps if it is frozen. Cut it up into small cubes. 

Combine the flour, sugar and salt in a bowl

Add the butter and begin to work it with your fingertips till you achieve a crumbly, sand-like texture

Beat the eggs and add the beaten eggs and bring the dough together. Avoid using your palms as it will cause the butter to melt

Divide the dough into one large piece and a small one, wrap each in cling film and freeze for at least 25 mins before using.
Ingredients For The Filling:
Mangoes cut in cubes – 3 nos; Sugar – 20 g; Corn flour – 15 g; Rum (optional  – 60 ml
Method:
In a pan add 3/4

th

of the mangoes and begin cooking on medium heat

Add the rum and cook them till the water evaporates and you get a thick mixture

Add the remaining mangoes to the mixture and take it off the heat

When hot, mix in the sugar and corn flour

Keep aside to cool
Method for the Assembly:
You can use a lose bottom cake tin/ pie mold/ even a pyrex dish 

Roll out the larger piece of dough, prick the surface with a fork

Line the base and sides of the mold and bake @180 C for 10 – 15 mins (use eggwash wherever the dough is not sticking)

Pour the filling into this shell

Roll out the smaller piece of dough and arrange like a trellis over the filling 

Egg wash the surface and bake for further 45 mins @180 C

Let the pie cool first, warm a little before serving. It goes great with vanilla ice cream!
Tips:
Egg wash = 1 egg + 30ml milk

Use only your fingertips when making the dough

Do not overdo egg wash on the top, or the pie will color too fast without baking through
---
Baked Mango Yogurt Recipe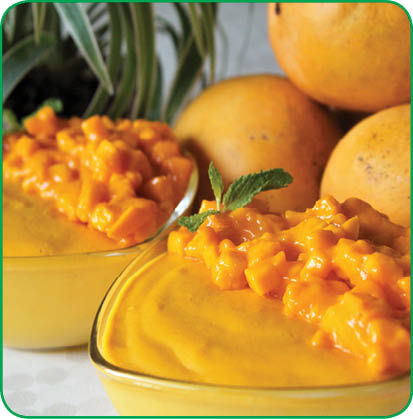 Ingredients:
Yogurt/Dahi – 200 g; Condensed milk – 200 g; Cooking cream – 200 g; Fresh Mango Puree – 200 g
Method:
Combine the yogurt, condensed milk, cooking cream, fresh mango puree in a bowl

Whisk together till nice and smooth

Fill the mixture in oven proof bowls and transfer them to an ovenproof dish

Fill the dish with boiling water till at least half the height of the bowl

Bake @180 C for 45 – 50 mins, make sure they are still slightly jiggly in the centre

Chill them for at least 2.5 hours 

Garnish with chopped mangoes or a topping of choice and serve cold
Tips:
The mangoes should not be over-ripe

Make sure the mixture is super smooth and lump-less as it doesn't give a good feel in the mouth post baking.
---
Latest posts by PT Reporter
(see all)