Delzad K Avari is a Le Cordon Bleu, London Alumni.

His love for cooking was evident from a very young age. Having completed the Grand Diploma in cuisine and patisserie from the London campus, post his Hotel Management degree from Mumbai's Sophia Polytechnic. His expertise has been honed with rich and varied experiences including his stints with the Taj Mahal Palace and Towers (Mumbai); a Food Producer with Masterchef India – Season 2, followed by Dubai and the Maldives; and more recently, as a Sous Chef in Trinidad and Tobago in the Caribbean!

Back home in Mumbai, he currently runs his own home chef set-up, greatly gaining in popularity, named, 'Del'z Kitchen'- an absolute go-to for all meat-lovers! Delzad also shares his expertise in Restaurant Menu Development and Consulting for his recent project – 'Tiger Lily', an upscale restaurant in Hyderabad. He has recently begun his own YouTube channel, titled 'Chef Delz', which is tasting great success! [Chef Delzad's Insta – Personal: @chef_delz  &  Work: @delzkitchen]. We welcome suggestions, queries and requests for recipes from our readers at editor@parsi-times.com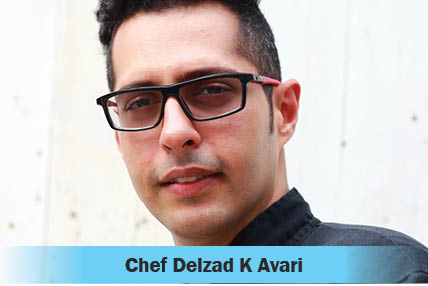 As we enter the auspicious Bahman Mahino, with a lot of our community members opting for vegetarianism, Chef Delzad shares the recipes of two of his delicious vegetarian delicacies – 'Veggie Delight Bake' and 'No-Fry Parsi Stew'.
VEGGIE DELIGHT BAKE
Ingredients:
Onions chopped – 2 medium; Julienned Bell Peppers – ½ red and ½ yellow; Chopped Baby corn – 5 to 6; Sliced mushrooms – 6 to 7; Slivered Green Chillies – 2 to 3; Coriander leaves – ¼ bunch; Ginger-garlic paste – 1 tbsp; Butter – 30 g; Maida – 30 g; Milk –  300 ml; Cheese grated – 150 g; Salt and Pepper – to taste.
Method:
Sautee the onions in oil, but do not let them brown. Add the ginger garlic paste. Add the bell peppers baby corn mushrooms and green chilies. Sautee for 2 more mins. Add salt and pepper.

To prepare the white sauce – Heat the butter in a pan, add the flour and cook till it looks like wet sand. Add the milk and keep cooking on a low heat till it thickens.

Fold the veggie mixture into the white sauce, add half the cheese and mix it in.

Pour it into a baking dish garnish with chopped coriander and the remaining grated cheese. Bake for 20 min @ 180 C. 

Then bake for another 5 min with only the top grill of the oven till the top layer turns light brown. Serve Hot!
---
NO-FRY PARSI STEW 
Ingredients:
Chopped onions – 2 medium; Chopped tomatoes – 2 medium; Cubed potatoes – 2 medium; Peeled Green peas – 250g; Sweet potato (optional) – 1 small; Green Chillies – 3; Coriander leaves – ¼ bunch; Ginger garlic paste – 1 tbsp; Red Chilli Paste – 1 tbsp; Salt, vinegar and sugar – to taste; Powder Masalas – Haldi powder – ½ tsp; Chilli powder – ½ tbsp; Dhana jeeru – 1 tbsp
Method:
In a cooker cook the chopped onions in 2 tbsp of oil. Add 1 tbsp each of ginger-garlic paste and red chilli paste and cook.

Add the chopped tomatoes and green chillies. Cover and cook till tomatoes are soft. 

Add all the powder masalas and salt, and cook till oil leaves the mixture

Now add all the veggies, along with half teaspoon sugar and 1 tbsp vinegar. Add some water and close the cooker and cook till 2 whistles. 

Let the cooker cool before opening. Dry off the excess water in the stew and garnish with chopped coriander.
---
Latest posts by PT Reporter
(see all)