Delzad K Avari is a Le Cordon Bleu, London Alumni. His love for cooking was evident from a very young age. Having completed the Grand Diploma in cuisine and patisserie from the London campus, post his Hotel Management degree from Mumbai's Sophia Polytechnic. His expertise has been honed with rich and varied experiences including his stints with the Taj Mahal Palace and Towers (Mumbai); a Food Producer with Masterchef India – Season 2, followed by Dubai and the Maldives; and more recently, as a Sous Chef in Trinidad and Tobago in the Caribbean!

Back home in Mumbai, he currently runs his own home chef set-up, greatly gaining in popularity, named, 'Del'z Kitchen'- an absolute go-to for all meat-lovers! Delzad also shares his expertise in Restaurant Menu Development and Consulting for his recent project – 'Tiger Lily', an upscale restaurant in Hyderabad. He has recently begun his own YouTube channel, titled 'Chef Delz', which is tasting great success! [Chef Delzad's Insta – Personal: @chef_delz  &  Work: @delzkitchen]. We welcome suggestions, queries and requests for recipes from our readers at editor@parsi-times.com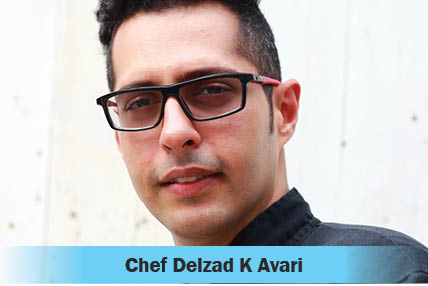 This week, Chef Delzad says, "In view of the Bahman Mahino I wanted to bring to you an easy fish main course, which you can easily replicate at home," pleasing the palate with the delicious 'Grilled Fish with Lemon butter Sauce, Veggie Gratin and Pan Roasted Potatoes'; and a fun drink to wash it down with – 'The Chilli Mango Spritzer'.
.
Grilled Fish With Lemon Butter Sauce, Veggie Gratin And Pan Roasted Potatoes
Ingredients for the Veggie Gratin:
Vegetable oil – 1 tbsp; Butter – 1 tbsp; Chopped carrots – 1 small; Chopped French beans – 3 – 4; Sliced baby corn – 2 pcs; Chopped onions – 1 small; Chopped garlic – 3 cloves; Cooking cream – 1 tbsp; Cheese spread – 1 tbsp; Salt and pepper – to taste
Method:
Heat oil in a pan, add the butter.

Add the onions, garlic and veggies and sauté.

Add the cream and cheese spread.

Cook till you get a semi-dry mixture and the veggies are cooked

Transfer this to an oven proof bowl, top with shredded mozzarella and bake @180 C till the surface browns.
Ingredients for the Pan Roasted Potatoes:
Potatoes cut in cubes – 2 small; Crushed garlic – 2 cloves; Oil – 1 tbsp; Butter – 1 tbsp; Salt, pepper and paprika – to taste
Method:
Par boil the potatoes in salted water

Heat oil in a pan, add the potatoes and cook till they lightly brown

Add the butter and garlic cloves, season with the salt, pepper and paprika powder

Continue cooking till the potatoes brown. While cooking, keep rotating the pan so that the potatoes colour uniformly.
Ingredients for the Fish and the Sauce:
Basa/any white fish fillet – 1 pc; Vegetable oil – 1 tbsp; Butter – 1 tbsp; Cream – 1 tbsp; Lime juice – ½ lime; Salt and pepper – to season; Chopped coriander – 1 tsp 
Method:
Season the fish with salt and pepper and leave aside for 20 mins

Heat oil in a pan and sear the fish on both sides

Add 1 tbsp butter to the pan, then cover and cook the fish for 7 – 8 mins on low heat.

Remove the fish and add the remaining butter to the pan, add the chopped onions and sauté

Now add the cream, mix it in quickly and strain

Add lime juice and a little chopped coriander, check for salt.
Tips:
Cook the potatoes on low heat, otherwise they could get burnt.

Do not boil the sauce or it will split.
---
Chilli Mango Spritzer
Ingredients:
Mango puree – 60 g; White wine – 60 ml; Sprite – 40 ml; Chilli flakes – a pinch
Method:
Fill a tall glass with ice, pour the mango puree over it and add the chilli flakes

Top with the wine and the sprite

Give it a stir before serving
Tips:
If the mango puree is not sweet enough, add some sugar syrup

For a non-alcoholic version, skip the wine and use only sprite
---
Latest posts by PT Reporter
(see all)