Since time immemorial, the ethereal beauty of stained glass has mesmerized us all. A popular craft over centuries, it was mostly associated with medieval cathedral windows, but its elegance continued to capture the loyalties of artists, and today, a good number of contemporary artists create and employ its magnificence to adorn more than just church windows. What used to be an ancient work of art, known to typically portray biblical imagery, has over the past few decades, been setting a new trend, in its own right – in terms of both – arts and architecture. 

Today, stained glass designs transform modern homes, art galleries and commercial spaces, creating, with their exquisite beams of colour and light, an enchanting gleam that transports the observer across different realms. When primeval and contemporary meet halfway, we can expect to revel in a visual extravaganza comprising the best of both worlds – as is dazzlingly evident in the stained glass works of this Kolkata-based, 82-year-old, artist extraordinaire – Katayun Saklat. Talented stage and Bollywood artist, as well as Home-Chef, Burjor Dustoor, shares a profile of his immensely gifted aunt.   
Born in 1938 in Kolkata (then Calcutta) to Homai and Rustam Saklat, Ketayun's paternal grandparents lived in Kashmir, her father being the very first Parsi to be born there. He relocated to Calcutta in 1928 after his marriage working with Singer Sewing Machine Company. Ketayun's mother, Homai, a homemaker, was a fabric-painter. Katayun schooled at The Calcutta Girls' High School, where her classmates included girls from diverse ethnic and religious backgrounds. From an early age, she and her sisters were taken to art exhibitions by their parents and this fostered a lifelong love of the visual arts. 
Artists who left an impression on her in those early years were Radhacharan Bagchi and Li Gotami (born Ratti Petit). After school, Katayun pursued her education for a year in Commercial Arts at Mumbai's Sir JJ School of Art, post which she returned to Calcutta to enrol in the Government College of Art and Craft, before finishing at The Indian College Of Arts And Draftsmanship.  Her teachers included renowned artists Chintamani Kar, the then Principal of the Government Art College; and Arun Bose, who went on to achieve great fame as a printmaker in New York.  
Katayun left for the UK in 1973, receiving three British Council grants, one of which included training under the legendary Medieval stained-glass artist, Patrick Reyntiens, in Buckinghamshire. She returned to India in 1975 and started designing and creating stained glass handiworks; her influences during those years included architect Nari Gandhi and artist Pilloo Pochkhanawala.  
Katayun is one of the most renowned and prolific designers of stained-glass in the country and her brilliant creations are displayed in several prominent public and private collections, including the fourteen panels at the Agiary in Calcutta.  In 1997, at the Art Today Gallery in New Delhi, she held a major exhibition, showcasing nearly one hundred pieces, including those celebrating the seven major religions of the world.  
Katayun is also a famous painter in diverse media, including oils and watercolours.  Her themes include still life and objects that take on a life of their own and imbibe the atmosphere around them, dreamscapes, Zoroastrianism and Parsis (whom she terms 'The Endangered Species'), flower studies, and much else.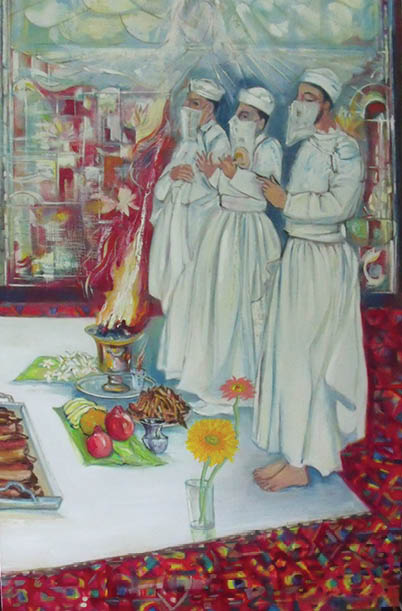 In 1989, she founded 'Gallery Katayun' in Kolkata, aimed at encouraging and promoting young and upcoming talents, who would not necessarily find space in commercial galleries.  Even today, she continues to mentor young and upcoming artists, alongside living her passion of designing and creating resplendent stained-glass pieces as well as painting. She paints practically everyday and hopes to do so for the rest of her life.
Katayun's greatest desire is to establish an Art Museum which will house beautiful objects from across the world and be open to members of the public. She remains hopeful about the project in the future. 
To the Parsi Community, Katayun says, "I am proud and privileged to have been born a Parsi. I feel that the younger members of the community should take to more creative professions and keep alive the great traditions of our community. Artists like Manchershaw Pithawala, Pestonji Bomanji, Jehangir Lalkaka, Mehli Gobhai, Jehangir Sabavala and Gieve Patel have made enormous contributions to the history of Indian Art and it would be wonderful to see the Parsi youth carry on this tradition and make our community and our country proud of their achievements!"
Latest posts by PT Reporter
(see all)