Delzad K Avari is a Le Cordon Bleu, London Alumni. His love for cooking was evident from a very young age. Having completed the Grand Diploma in cuisine and patisserie from the London campus, post his Hotel Management degree from Mumbai's Sophia Polytechnic. His expertise has been honed with rich and varied experiences including his stints with the Taj Mahal Palace and Towers (Mumbai); a Food Producer with Masterchef India – Season 2, followed by Dubai and the Maldives; and more recently, as a Sous Chef in Trinidad and Tobago in the Caribbean!

Back home in Mumbai, he currently runs his own home chef set-up, greatly gaining in popularity, named, 'Del'z Kitchen'- an absolute go-to for all meat-lovers! Delzad also shares his expertise in Restaurant Menu Development and Consulting for his recent project – 'Tiger Lily', an upscale restaurant in Hyderabad. He has recently begun his own YouTube channel, titled 'Chef Delz', which is tasting great success! [Chef Delzad's Insta – Personal: @chef_delz  &  Work: @delzkitchen]. We welcome suggestions, queries and requests for recipes from our readers at editor@parsi-times.com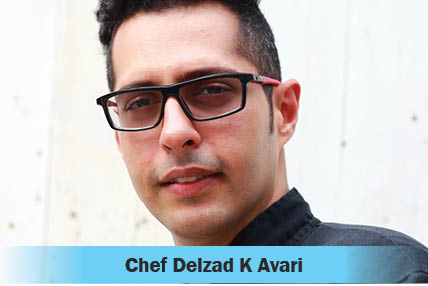 This weekend, Chef Delzad gets you ready to whip up a yummy Tandoori Cauliflower Salad and a delicious Masala Prawn Rice!
TANDOORI CAULIFLOWER SALAD 
Ingredients: 
Cauliflower – 1 medium; Curd – 3 tbsp; Mustard oil – 1 tbsp; Chilli powder – 1 tbsp; Jeera powder – 1 tbsp; Haldi powder – ½ tsp; Ginger garlic paste – 1 tbsp; Red chilli paste – 1 tbsp; Tandoori masala – 1tbsp; Chaat masala – ½ tsp; Caramelized Walnuts and Sauteed Bell Peppers And Onions (recipe provided below)
Method:
Combine the curd with all the powdered masalas, ginger garlic paste, red chilli paste and mustard oil

Marinate the cauliflower in the above paste and bake in the oven @180 C for 25 – 30 mins or till they get a darker colour and are cooked through.

Sprinkle with chaat-masala once cooked, allow to cool 
CARAMELIZED WALNUTS:
Ingredients:
Walnut halves – 30 g; Sugar – 1 cup
Method:
Grease a tray with oil and keep ready.

Cook the sugar with a little water till it caramelizes. Add the walnuts and coat them nicely.

One by one, transfer onto the tray and allow them to cool.
SAUTEED BELL PEPPERS AND ONIONS:
Ingredients:
Sliced Onions – 1 small; Bell peppers cut in batons/strips – 1 small; Chaat masala – ½tsp; Oil – 1 tsp
Method:
Saute the onions and bell peppers with a sprinkle of chaat masala
FOR THE ASSEMBLY 
Ingredients:
Lettuce leaves of choice – 100 g (I have used ice-berg); Olive oil – 1 tbsp
Method:
Combine the cauliflower, peppers and onions, caramelized walnuts, lettuce and olive oil

Toss them all together and serve!
---
MASALA PRAWN WITH BIRYANI RICE 
FOR THE PRAWNS:
Ingredients:
Cleaned prawns – 500 g; Haldi powder – ½ tsp; Chilli powder – ½ tbsp;  Dhana jeera powder – ½ tbsp;  Tandoori masala – 1 tbsp;  lime juice – ½ pc; Salt
FOR THE GRAVY:
Ingredients:
Chopped onions – 1 medium; Red chilli paste – 1 tbsp; Ginger garlic paste – 1 tbsp; Chopped tomatoes – 2 small; Chopped green chillies – 3 pcs; Malt vinegar/brown vinegar – 1 tbsp; Chopped coriander; Salt to taste
FOR THE RICE:
Ingredients:
Saffron – 1 pinch; Biryani Masala – 1.5 tbsp; Oil – 2 tbsp; Chopped onions – small; Chopped garlic – 4 cloves; Boiled Rice – 200 g; Salt – to taste
METHOD:
Season the prawns with the dry masalas and lime juice and keep aside for 20 mins.

Fry the chopped onions till brown, add red chilli paste, ginger-garlic paste and saute. 

Add finely chopped tomatoes and green chillies. Let the tomatoes cook till oil leaves the mixture

Add the marinated prawns and cook till prawns are done and gravy thickens, till it is enough to only coat the prawns. Add chopped coriander. Add salt as per taste.

For the rice, saute the onions and garlic in oil. Then mix the saffron in a little water and add. Next, add the biryani masala and cook for 5 mins. Add salt to taste. Now add the rice and mix well to incorporate the masala uniformly.
---
Latest posts by PT Reporter
(see all)