Delzad K Avari is a Le Cordon Bleu, London Alumni. His love for cooking was evident from a very young age. Having completed the Grand Diploma in cuisine and patisserie from the London campus, post his Hotel Management degree from Mumbai's Sophia Polytechnic. His expertise has been honed with rich and varied experiences including his stints with the Taj Mahal Palace and Towers (Mumbai); a Food Producer with Masterchef India – Season 2, followed by Dubai and the Maldives; and more recently, as a Sous Chef in Trinidad and Tobago in the Caribbean!

Back home in Mumbai, he currently runs his own home chef set-up, greatly gaining in popularity, named, 'Del'z Kitchen'- an absolute go-to for all meat-lovers! Delzad also shares his expertise in Restaurant Menu Development and Consulting for his recent project – 'Tiger Lily', an upscale restaurant in Hyderabad. He has recently begun his own YouTube channel, titled 'Chef Delz', which is tasting great success! [Chef Delzad's Insta – Personal: @chef_delz  &  Work: @delzkitchen]. We welcome suggestions, queries and requests for recipes from our readers at editor@parsi-times.com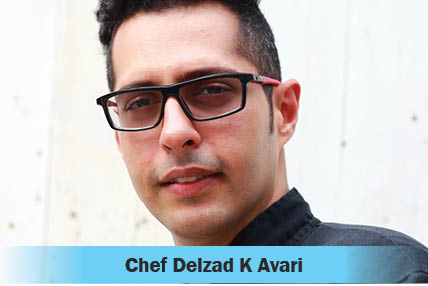 This week, Chef Delzad shares a delicious and easy-to-prepare recipes for the monsoons – the perfect accompaniment with your evening drinks or anytime of the day!
.
.
.
BEER BATTER FRIED PRAWNS
WITH SRIRACHA MAYO
For The Sriracha Mayo 
Ingredients:
Mayonnaise – 3 tbsp; Mafia Chef's Sriracha – 1 tbsp; Garlic paste – 1 tsp
Method:
Combine the ingredients and mix together
For Marinating The Prawns:
Ingredients: 
Deshelled and de veined prawns – 500 g; Salt, Pepper and Paprika – to taste
Method:
Season the prawns with the salt, pepper and paprika

Keep refrigerated before using
For Beer Batter:
Ingredients:
Beer – 500 ml; Rice flour – 1 ½ cup; All-Purpose flour/Maida – ¾ cup; Salt – to taste
Method:
Mix all the ingredients together and whisk till you get a smooth batter
Final Preparation – Frying The Prawns
Make a mixture of 50% rice flour and 50% All-Purpose flour/maida.

Roll the prawns in the flour and dust off the excess.

Dip each prawn in the batter individually.

Drop in hot oil.

Keep stirring the prawns to prevent from sticking.

Cook for about 3 -4 mins or till you get a golden-brown colour on the batter.

Serve hot with the Sriracha Mayo.
---
FRISKEE WHISKEE
Ingredients:
Whisky – 60 ml; Mint – 10 leaves; Lime (cut in quarters) – ½ nos; Honey – 1 tbsp; Orange juice – 80 ml; Ice – as required
Method:
In a glass, muddle the lime-quarters and add the mint leaves.

Add 3 cubes of ice to the glass.

In a shaker combine the whisky, orange juice and honey with ice and shake it up.

Strain into the glass and serve! 
Latest posts by PT Reporter
(see all)