Dr. Brijesh Raj is a Mumbai-based practicing Companion Animal Veterinarian, a Certified Veterinary Acupuncturist (Chi Institute of Chinese Medicine, Florida) and a Tai Chi teacher. He commands two decades of expertise with healing animals and provides some of the most effective and dynamic scientific techniques for the integrated and holistic healing and overall wellbeing of all pets. You can connect with him for professional consultations at 9322289370.
Allow me to start with the story of Fluffy, a truly special Golden Retriever who I had the privilege of treating for most of his life. He had been found tied to the gates of the Bombay SPCA, a gift to anyone who might care to have him. Severely malformed hips made walking terribly painful and treatment expensive. Fortunately, he was taken in by a kind lady whose house was already bursting at the seams with rescues!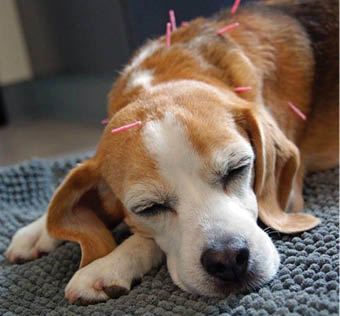 Supplements and painkillers helped during the initial years of his life, until he reached a stage where standing necessitated locking both knees, and stretching his hind limbs backwards. X-rays revealed severe degenerative joint disease in both hips and painful, bony projections in multiple locations along the spine. Movement became so excruciatingly difficult that he began spending most of his time lying in one spot. In abject frustration, he even snapped at his human parent once whilst being moved to another spot in the house. That's when we started treating Fluffy with acupuncture and witnessed some incredible results!  
What Is Acupuncture?
Based on its Latin roots, 'Acus' means needle and 'Pungare' means to pierce. This healing system has been traced back to the Neolithic period, with the discovery of stone-needles in Mongolia from that time. 
Acupuncture helps maintain a healthy flow of Qi (energy) throughout the body. It increases opioid and endorphin production. These act as natural painkillers and are very effective in the treatment of long-standing, painful conditions such as osteoarthritis and musculoskeletal pain which is common in senior dogs. It has also proved to be effective in the treatment of spinal cord issues in pets, such as intervertebral disc disease.
Modern day stimulating techniques include Dry Needling, Electro-Acupuncture, Laser Acupuncture, Aqua/Hemo-acupuncture.
What Are The Benefits Of Acupuncture?
Proven benefits include pain relief, stimulation of the nervous system, regulation of immunity, and improvement of digestive and reproductive health. It can be used to regulate blood pressure and reduce stress. It also enhances performance and reduces inflammation.
How Many Sessions Would Be Needed And How Long Would Each Session Take?
The frequency and length of treatment depends on the nature and severity of the pet's health challenge. In general, weekly treatments for a total of 6 to 8 sessions (one session per week) are followed by a reducing frequency of treatments in a phased manner. 
History taking, physical examination and choosing the appropriate acupoint takes time. Consequently, the first session takes longer than usual. Each subsequent session might take 30-40 minutes with needles, and 10-15 minutes for laser acupuncture depending upon the case.
Is Acupuncture Painful?
The needles, per se are finer than the regular needles used for injections. Thus, pain is minimal. However, due to blockages in energy flow, some acupoints are sensitive and the pet might experience some pain during needling or some discomfort when there is the arrival of fresh Qi at the blocked site. Laser stimulation is painless and is well tolerated even by fearful dogs and cats.
As a practice, I always take into consideration the pet's personality before choosing the acupoints and the technique to be applied.
Combining modern diagnostics and some medicines with ancient treatment modalities promises maximum benefit and minimum side effects.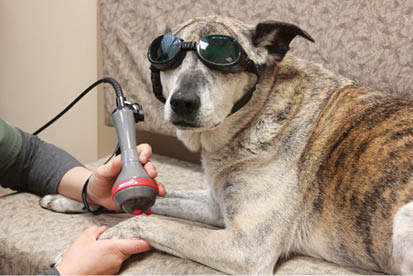 Fluffy
We got Fluffy started on laser acupuncture – a quick, painless, weekly intervention that worked wonderfully well on him. From being reluctant to stand, this 40 kg Golden Retriever began bounding up and down the stairs, so he could be with his caregiver! This lasted for over two and a half years.
Unfortunately, during the lockdown, the acupuncture sessions could not be continued.
When I finally saw him, he was lying in one spot, refusing to eat. For the first time, he allowed the use of needles and he got up the next day, relieved himself and ate a little. Unfortunately, he had contracted an infection and that proved too much for him. 
Keeping Fluffy relatively pain-free for the better part of his life really helped him maintain his dignity and quality of life. He soldiered on for the last three of his seven years with severe joint degeneration, thanks to a combination of acupuncture and western medicine. 
There are so many more such pets out there who can benefit from acupuncture and whose quality of life can change for the better. Today, integrated medicine is the way forward and combining acupuncture with western medicine, administered by a good vet, can complement each other and really help our hapless pets live a happier and healthier existence!
Latest posts by PT Reporter
(see all)