Cawas Sorabji Panthaki, our highly regarded BPP CEO, and a much respected and loved member of our community, passed away on 14th August, 2020, at 6:15 am, at Reliance Foundation Hospital, after braving a long and difficult illness. BPP Trustee Kersi Randeria shares a tribute…
The loss of Cawassa (as I would fondly call him) leaves a void that will be very difficult to fill. 
He was as strict, as he was compassionate. He was as kind, as he was firm. He was a simple man dedicated to his work and totally committed to the welfare of the community.
Cawassa was a man who was not afraid to stand up for what was right. I was often surprised to see the firmness with which he would deal, even with the Trustees and not back off from a position he believed to be the correct one. This was the man, this was the CEO that I had the pleasure and privilege of working with, for the last four and a half years.
As a trustee, I repeatedly turned to Cawassa, for innumerable details and facts about the BPP or the FPZAI, most of which he had on his fingertips, or was given to pull out with the greatest of ease. His systematic and orderly filing of papers and his sharp and memory-retentive mind were his assets that greatly benefitted the BPP. I genuinely believe that no single individual in this Trust will have the same knowledge of all things concerning the Trust, as Cawassa did. This is the void that will be painful and most challenging for us all to fill.
Two small stories about my experiences with Cawassa, that I haven't shared with anyone till date, will demonstrate to our community members, the solidity and strength of his character and his unquestionable integrity…
When we became Trustees, Cawassa had already left the BPP, tired and fed up of the daily internal battles being fought by the then trustees, which had brought the trust to an unfortunate standstill for more than three years. He had sought employment under Mr. Mancherji Cama.
I remember meeting Cawassa just outside the lift of the BPP building, on the ground floor (near the well, in the school). We started talking and I asked him if he were willing to re-join the Punchayet again as the CEO. His reply was the true mirror of his indomitable character and uprightness. He said, "Mr. Mancherji Cama helped me out at a difficult time by giving me a job, and much as I would like to work for the BPP, I cannot forget his kindness and cannot be disloyal to him."
I asked him if he would be willing to re-join if I requested Mr. Cama to kindly relieve him of his current employment so he could come back and work at the BPP. Cawassa agreed, and thanks to Mr. Mancherji Cama, who willingly and graciously agreed to relieve him, Cawassa returned to the BPP. This showed the moral fibre of the man – Cawassa – for whom his word and loyalty reigned supreme.
The other anecdote that I wish to share is much more recent… and it displays the level of integrity and character of the man, which one seldom finds today in our fellow beings. When Cawassa fell ill earlier this year, no one envisaged the long and tough struggle he would have to undertake vis-à-vis his health. 
When Cawassa was first admitted to the Breach Candy hospital, the BPP footed the entire bill amounting to almost Rs. 25 lakh. Not many knew how much this bothered Cawassa. 
One day, I received snapshots or pics of a hand-written letter on Whatsapp, which was not very legible and even more difficult to decipher, as Cawassa's handwriting was always a challenge to most, sometimes including himself! However, I did manage to read most of it and based on it, I was able to understand its content and his intentions. 
A couple of days later, he called me, and we spoke about the letter he had written. He told me that I was the only Trustee that he wanted to speak with and with whose help he wanted to put his plan in place. Cawassa was a proud man and did not want his 'debt' to the BPP, as he thought of it, to remain unpaid… 
He told me, as even his letter to me had said, that he wanted to sell his house, move to a smaller apartment and use the difference to pay off the amount the BPP had spent on his hospitalization. I convinced him to wait for some time, till he had regained his health and was strong enough to re-join the BPP, after which, I suggested to him that we would discuss it. 
Unfortunately, Cawassa never regained his full strength and was again hospitalized, and after a long and belaboured struggle with life, he passed away, on the 14th of this month, leaving this major void that I feel, marking the end of the life of a man of true character, compassion, honesty and integrity.
These two anecdotes bear greater testimony to Cawassa's character, than any encyclopaedic account showering every appreciation and praise, that he was so deserving of.
We will miss you, Cawassa.
May your noble soul attain Garothman Behest.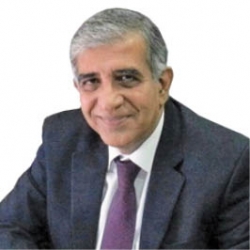 Latest posts by Kersi Jamshed Randeria
(see all)