Delzad K Avari is a Le Cordon Bleu, London Alumni. His love for cooking was evident from a very young age. Having completed the Grand Diploma in cuisine and patisserie from the London campus, post his Hotel Management degree from Mumbai's Sophia Polytechnic. His expertise has been honed with rich and varied experiences including his stints with the Taj Mahal Palace and Towers (Mumbai); a Food Producer with Masterchef India – Season 2, followed by Dubai and the Maldives; and more recently, as a Sous Chef in Trinidad and Tobago in the Caribbean!

Back home in Mumbai, he currently runs his own home chef set-up, greatly gaining in popularity, named, 'Del'z Kitchen'- an absolute go-to for all meat-lovers! Delzad also shares his expertise in Restaurant Menu Development and Consulting for his recent project – 'Tiger Lily', an upscale restaurant in Hyderabad. He has recently begun his own YouTube channel, titled 'Chef Delz', which is tasting great success! [Chef Delzad's Insta – Personal: @chef_delz  &  Work: @delzkitchen]. We welcome suggestions, queries and requests for recipes from our readers at editor@parsi-times.com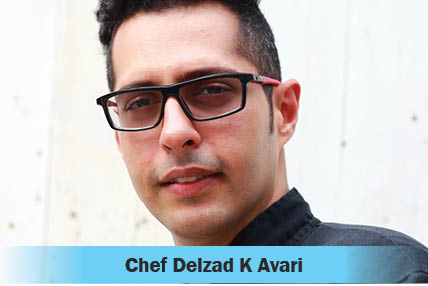 In keeping with the rainy season, this week, Chef Delzad shares the recipe of three delectable soups to keep you warm and your palates satiated!
.
.
.
---
.
Creamy Potato And Scallion Soup
Ingredients:
Potatoes – 250 g; Onions – 1 medium; Garlic – 6 cloves; Butter – 30 g; Spring onions – 4; Chicken breast cut in small dices – 100 g; Cream – 50 ml; Salt, Pepper, Paprika powder, Cumin powder – to taste, for seasoning chicken.
Method:
Peel and roughly chop the potatoes, onions and garlic.

Saute the above in butter and add enough water to cover. 

Add salt and boil till potatoes are cooked. Then blend using a stick blender/jar blender to a smooth consistency.

Season the chicken with the salt, pepper, paprika and cumin powder and add to the blended mixture.

Simmer for a further 7 mins or till the chicken is cooked.

Add the chopped spring onions.

Turn off the heat and add the cream. Mix well and serve hot!
---
Chicken Bone Broth Soup
Ingredients:
Chicken necks/bones – 1 kg; Onions – 2 medium; Carrots – 2 medium; Tomatoes – 1 medium; Chopped garlic – 5 cloves; Bayleaf – 2; Black peppercorn – 4; Cloves -3 pcs; Vegetable oil – 4 tbsp; Chopped coriander – ¼ bundle; Chopped spring onion greens – 2; Salt – to taste
Method:
Season the chicken bones/necks with salt and pepper; Combine with 1 roughly cut medium onion, 1 roughly cut carrot and 2 tbsp of vegetable oil. Roast in the oven @180 C for 1 hr. 

Boil the roasted bones and veggies with bayleaf, peppercorn and cloves for about 15 mins and simmer for another 20. 

Strain the stock and save the liquid and the bones and allow to cool.

Pull all the chicken off the bones and keep aside.

In another pot, heat 2 tbsp of oil and add 1 medium chopped onion, 1 medium chopped carrot, chopped garlic, chopped tomatoes and saute.

Add the chicken and the stock and bring to a boil

Serve hot, garnished with chopped coriander, chopped spring onion greens and a side of fresh bread.
---
Thai Noodle Soup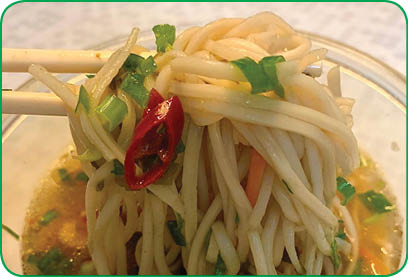 Ingredients:
Boiled noodles – 150 g; Carrots cut into julienne – 1 medium; French beans finely chopped – 8; Chopped spring onions – 3; Chopped dry red chillies – 4; Lime cut into slices – 1; Baby corn cut into roundels – 3 pcs; Sliced garlic – 6 cloves; Sliced galangal – 1 small piece; Chopped lime leaves – 2 pcs; Soya sauce – 1 tbsp; Chilli sauce – 1 tbsp; Star anise – 2 pcs; Vegetable oil – 2 tbsp; Salt and pepper – to season
Method:
Heat vegetable oil in a pan. Add garlic, spring onions, galangal, lime leaves, baby corn, French beans, carrots and saute.

Add the sliced limes and about 1.5 ltrs of water, season with salt, pepper, soya and chilli sauce and allow to come to a boil. Then simmer for 15 mins

Add the boiled noodles and your noodle soup is ready! 
---
Latest posts by PT Reporter
(see all)