Torrential rains on 5th August, 2020, wreaked much mayhem in Mumbai, causing damage to destruction to life, limb and property. And it wasn't just about the usual water-logging, traffic diversions and flooding. There were uprooted trees, collapsed walls, land-slides, roads cracking and caving in, power shortages and water scarcity, all across Mumbai, with South Bombay bearing the brunt, as Colaba beat a 46-year record for rainfall, while Kemps Corner and Malabar Hill were subject to its devastating fury. 
The road near the Hanging Gardens split open due to the unprecedented rainfall. Doongerwadi also saw much destruction with paths blocked, as a large number of trees got uprooted. The Lower Bungli pavilion structure has also been damaged. The priority will be to first restore water supply as a BMC pipe had burst and then have workers clear the site of the fallen trees and debris, before repair and restoration works can commence.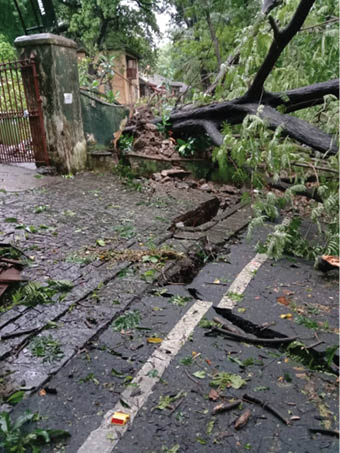 Offers of donation to contribute towards the same have been pouring in from many concerned community members. The BPP Trustees are taking stock of the situation and making plans to restore the damaged structures. However, we are informed that it may not be possible to start repair-work immediately, unless the impacted road outside (Ridge road) is repaired first. 
Corporator Harshita Narwekar informed Colaba residents through social media that the landslide had damaged pipelines supplying water to areas from the Malabar Hill reservoir. The water department would be actively working to resolve the same, but she has warned residents to use water judiciously as there was a possibility of reduced or no water supply for the next couple of days.
Latest posts by PT Reporter
(see all)