Our last (second) update was shared on June 6, 2020 (in Parsi Times) with donors, well-wishers and community members to apprise them of efforts undertaken by WZO Trusts to extend support to poor Zoroastrians affected financially due to the Covid-19 Pandemic. 
WZO Trust Funds shares the details of the third Update, as of 31st July, 2020
THE WZO TRUST FUNDS
FOOD GRAINS DISTRIBUTED & FINANCIAL AID DISBURSED 
TO ZOROASTRIANS IN ECONOMIC DISTRESS DUE TO COVID PANDEMIC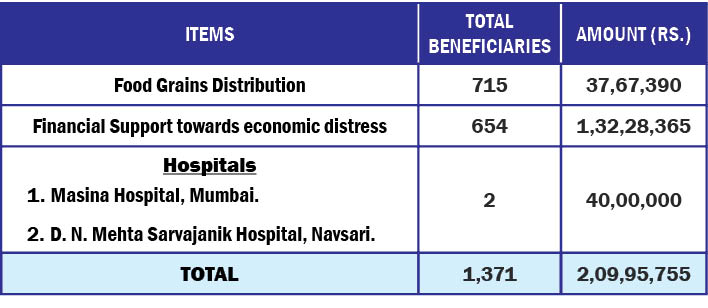 Parsi Times catches up with WZO Trust Funds Chairman, Dinshaw Tamboly…
PT: How did WZOTF get involved in Housing and why?
Mr. Tamboly: The WZO Trust Funds were first approached by the Chichgar family, who were at the time, residing in the United Kingdom and Africa. The family wanted to donate their home in Navsari for use by needy members of the Zarathushti community. For WZO Trust Funds, it presented a new opportunity to serve the community.
The Chichgar family donated their ancestral house in 1997, which was demolished and the construction of the new building was completed in 1999.  A total of 7 families were housed.  Seeing the success of this project and how one home could be converted into a building to house so many families in need, it set a precedent.  Other members of the community, who were no longer using their ancestral homes in Navsari, also began to donate the same.
All the properties have been donated to WZO Trust Funds in one way or another.
PT: What does it take to qualify for a flat in one of these buildings?
Mr. Tamboly: The basic requirement is that the family has to reside full-time in the flat at Navsari. It cannot be used as a second home. Additionally, age, income, need and other relevant criteria are considered. Those interested need to complete an application process and are then interviewed, before a final decision is made. 
All flats are given on Leave and License basis, without any deposits being charged. The total monthly outgoing at present which includes license fee, service and maintenance charges, are Rs. 1,050/-. The exteriors of the building and common areas are maintained by the Trust.
PT: How many buildings does WZOTF maintain today?
Mr. Tamboly: Including the newest building, the 'Dasturji Meherji K. D. Meherjirana Memorial House', WZO Trusts Funds owns 17 buildings, which collectively have a total of 113 flats. 
Construction for all buildings has been fully sponsored:
4 buildings by The Zoroastrian Charity Funds of Hong Kong, Canton and Macao

7 buildings by Bai Maneckbai P. B. Jeejeebhoy Deed of Settlement Fund.

6 buildings by Independent Donors
Without the support of such generous donors, it would not have been possible for WZO Trust Funds to provide quality accommodation to needy members of our community.
Latest posts by PT Reporter
(see all)