Nelson Mandela's quote, "What counts in life is not the mere fact that we have lived. It is what difference we have made to the lives of others that will determine the significance of the life we lead," is one of the first things that comes to mind when we browse the achievements and efforts of the dynamic and generous Freyaz Shroff, and her tall legacy of social and community service. When it comes to making a difference in the lives of others, her choices and endeavours – both, professional and personal – prove as a resounding testimony to the fact that she indeed, walks the talk. Adding yet another feather to her cap, Freyaz Shroff was recently appointed as FEZANA's (Federation of Zoroastrian Associations of North America) Indian Ambassador, in a first-of-its-kind of designation, under the charismatic leadership of its new President, Arzan Sam Wadia. Parsi Times is delighted to share a tête-à-tête with the inspiring and compassionate Freyaz Shroff…
.
Born in Mumbai, Freyaz relocated with her family early on to the USA, where she completed her high school, college and graduate school and holds an MBA in International Business and Marketing. Despite her expansive and super successful corporate career, in mid-2018, Freyaz chose to step into a direction that spoke more to her heart.
"With the support and blessings of my parents, I established the Non-Profit organisation – KurNiv Foundation, which focuses on supporting students from less privileged backgrounds, in gaining admission into and completing college graduation – along with three of the most amazing, heart-centered individuals. This work speaks to my heart and has become my life's passion. I love children, I love the work I do, I love that the people I love unconditionally support this work and I love that I never feel like I'm going to work!" says Freyaz.
A popular and successful KurNiv Foundation initiative, 'Pehchaan', has gained much appreciation. A 'No-Blame, Youth-for-Youth' initiative aimed at bridging the gap of inequitable education between the public and private sector schools in India, Pehchaan facilitates children from low income households to complete their schooling and junior college, and then move on to further studies or a lucrative vocational practice. It also sensitises society about the unjust gap between municipal and private school education in India and creates awareness about what people can do to bridge this lacuna.
"In 2019, of the 120 youth that graduated from our College Prep Program, 90 enrolled in college. In 2020, we conducted online classes throughout the lockdown. Approximately 80 students completed the College Prep Program and we are awaiting college admission results. In addition to the growth of our participants, we see great transformations in the youth who mentor our participants. Though some of our youth mentors are our alumni who grow with us, many are students from private schools, now in college," beams Freyaz, proudly!
"To serve has been at the core of who I am, for as long as I can remember," affirms Freyaz. And she's indeed been of service to others since childhood, having donned several roles. At fifteen years of age, in the US, she was a peer counsellor in high school; she also served as a volunteer to different organisations, assisting rape / domestic violence victims as also immigrants; and has been instrumental in the establishment of a facility for a children's shelter home. In India, she volunteered her services as a municipal school-teacher, where, in addition to teaching, she would often visit students' homes to ensure they attend school. She's served as the WZCC Mumbai Youth Chair and volunteers with the most prestigious and helpful WZO Trusts.
Freyaz has been FEZANA's Committee Member as well as Co-Chair to both – its Unity and Welfare Committees. She's also participated as a speaker with FEZANA's United Nations Team. Speaking about her appointment as FEZANA's Ambassador to India, she shares, "My Co-Chairs were amazing and helpful – even after I decided to relocate to India, they unconditionally supported me and offered me the opportunity to work as the Indian liaison for welfare appeals we received. As our hope for working synergistically as a global Zoroastrian community strengthens, FEZANA's appointing an Ambassador to India, seemed like the next natural step.
It's a new role which will evolve over time. We look to creating viable working relationships and building strong partnerships with local Zoroastrian trusts and associations – from the BPP and Parzor to XYZ and Anjumans across the country. We hope to work cohesively to further our common goals. We look forward to continuing our long-standing partnerships with organizations like the World Zoroastrian Organization Trusts, which have unconditionally supported and worked with FEZANA for close to three decades now. We hope to connect North American community members with our Indian counterparts. We aim to represent FEZANA at events where its presence would be beneficial. I'm quite nervous as this is a new position and a lot of roads still need to be paved, but I'm also excited to work on building bridges of connection and partnerships."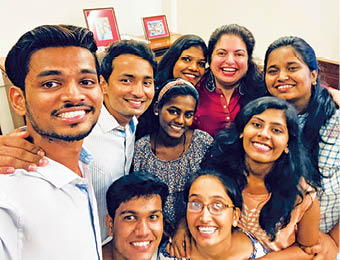 Despite her international and local professional commitments, Freyaz is presently the cheerful single mommy of eight 'adopted' children!  "My kids and I use the word 'adopted' because that's the one coming closest to what we share. I do not share their legal ownership but at heart, all eight of them are mine! I've always wanted a large family but never in my wildest could I have guessed this is how it would culminate! It all started with one of my experiences teaching at Colaba's Municipal Hindi Medium School. On asking a student why he had entered class in chappals instead of shoes, he said, matter-of-factly, that the rat ate them! Due to my then limited exposure to the prevailing conditions in which these children lived, I initially thought it was a joke, much like 'the dog ate my homework'. But when the program coordinator assured me of its reality, I decided to get Sunil a new pair and I gave him the money, telling him that now on I wanted to see him well-groomed and in school-issued shoes. Just these 2 minutes spent with him changed his life and mine. He started paying more attention in class, started coming to my home with his friends to study – my granny loved them and guided me into giving them morning breakfast and Sunday lunch. This turned into sessions of reading newspapers, watching English movies, learning how to use the fork and spoon and gradually, we all fell in love with each other to become the happy family we are today! My eight kids are my joy; they're my teachers. Every day they show me the meaning of 'putting love into action'. I feel abundantly blessed and am a better person today for having them in my life."
Sharing her thoughts on our community worldwide, and the need for unity amongst our community members, she says, "I believe in the best that resides within our community and our community members.  We have repeatedly displayed great unity in times of crisis – our values keep us centered, and in the end, we all want what is best for the community. If we understand that it is okay to have our own thoughts, opinions and interpretations and we choose to communicate these with respect, and with the aim of getting the other to consider our point of view, instead of insisting they adopt our point of view, we would have a firm foundation on which unity could flourish."
And what message would she like to share with fellow community members? "My message to everyone, regardless of community, is the same.  Every time we choose to think a thought, speak a word or take an action, we should consider asking ourselves, 'is this offering the world the best version of myself?' If the answer is yes, go ahead. If the answer is no, please reconsider. As our children see us think, speak and act, so will they. Let's leave a legacy of values, emotions and spirit that they can inherit with pride and pass these on, reinforced, to future generations," concludes Freyaz.
Latest posts by PT Reporter
(see all)