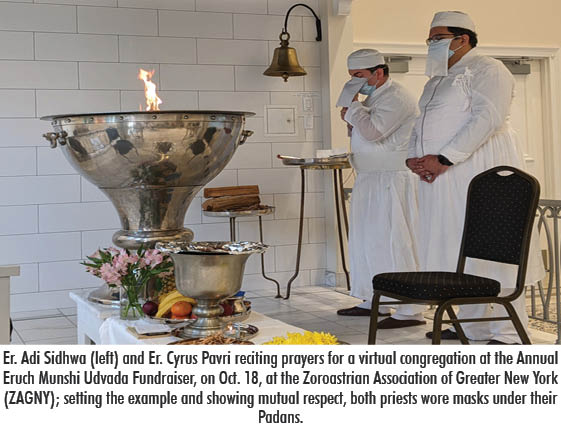 As Zarathushti associations and groups begin to open their doors or put together their plans for limited capacity in-person worship, the Federation of Zoroastrian Associations of North America (FEZANA) and the North American Mobeds Council (NAMC) have joined forces to offer and reiterate guidance from the Centers for Disease Control (CDC) on reducing risk exposure to COVID-19 to the greatest extent possible for Mobeds/priests and congregations. These include:
All entering a Zoroastrian place of worship should wear a mask out of respect for fellow Zarathushtis – including Mobeds, administrators, congregants, visitors, vendors and janitorial staff.
Social distancing – 6 to 10 feet – no hugs, no hand-shakes, elbow bumps or close conversations.
Seniors with pre-existing health issues, or those who are unwell urged to think twice before putting yourself and/or others at risk; virtual prayers (via platforms like Zoom) are a wiser option.
Those living with seniors need to think about your actions, movements and interactions, and have a plan to address the risk of infection within the home.
Become familiar with your local numbers: positivity rate, number of new cases, hospitalizations and deaths. If you are located in a community where numbers are trending upward, use extra caution.
USA spotlight: 55,000 new cases per day; 38 states within the United States (as of 18th October, 2020) are surging in new Coronavirus cases as colder weather months approach.
CDC offers the following general considerations to help communities of faith discern how best to practice their beliefs while keeping their staff and congregations safe. These include guidelines on Promoting healthy hygiene practices; Encouraging the usage and care-taking of masks; Promoting social distancing, Intensifying, cleaning, disinfection and ventilation; Taking steps to minimize community sharing of worship materials and other items; Preventing the spread of COVID-19 in childcare settings; Training the staff and clergy in the above safety actions; Checking for signs and symptoms; Planning for when a staff member or congregant becomes sick; and Maintaining healthy operations.
Founded in 1987, FEZANA is a non-profit federation which represents a diverse and growing Zarathushti community in the western diaspora and serves as the coordinating body for 26 Zoroastrian associations and 14 corresponding groups in Canada and the United States. The NAMC is a non-profit religious organization, established in 1992, to advance Zoroastrian teachings and values in North America. NAMC membership includes Mobeds/Priests that have been ordained in India and Iran.
Latest posts by PT Reporter
(see all)