Parsi Zoroastrians have carved a niche for themselves in the country… from leading industrialists like Ratan Tata and Godrej to an army of talented Bollywood actors, prodigal Parsis are an asset to India's culture and economy. With a population of less than 55,000 Parsi/Irani Zoroastrians in India, our lip-smacking food, peculiar surnames, stellar Bollywood movies, acting skills and the sweet mentions – from 'dikra' to 'gadhera' – are a part of India's popular culture, but our expertise and contribution to the fashion world is lesser known… more specifically, the Art of Parsi Embroidery. Parsi Times is delighted to present the Feature Series – 'Parsi Embroidery: A Heritage Of Humanity' – a labour of love and much research, by Dr. Shernaz Cama, the Director of the UNESCO Parzor Project for the Preservation and Promotion of Parsi Zoroastrian Culture and Heritage, sharing the vibrant history of Parsi embroidery.
.
In the early stage of development, embroidered yardage was covered on all four sides as if bordered within a frame. This yardage is called gala in Gujarati and its enclosed patterned space gave its name to the Gara. Parsi women following Indian tradition began designing kors or borders to match the inner embroidery, then frontage or the pallav designed to highlight the design and soon Chinese yardage had developed into the Parsi gara sari.
The colours favoured in the Persian tradition were imperial purple and other dark shades. As Indian influence developed, the auspicious Indian Kunku red or vermillion became a favourite, particularly for engagement saris. In India, there began a tradition of using red for the engagement sari. Here, we can see a vermillion engagement gara which combines Persian trellis patterns, the flowers and birds from the Iranian tradition with the Endless Knot from the Chinese cultural vocabulary.
Parsis, men, women and elders wear white, symbolizing purity at weddings. Following introduction of trade with Europe and the coming of Europeans to India, particularly the trading stations at Surat and later Bombay, western styles in textiles were added to the Parsi vocabulary. Lace became a favourite, especially lace blouses under saris, which were favoured because they matched the white sacred sudreh, every woman wore, showing under the blouse. Parsi women preferred white and cream embroidery on their saris, rather than typical Chinese multi-coloured embroidery because it matched the white lace sudrehs. Thus, Parsis who were important to Chinese embroidery sales in the East, made a change even in the embroidery of the great Chinese Schools of embroidery which flourished across that country.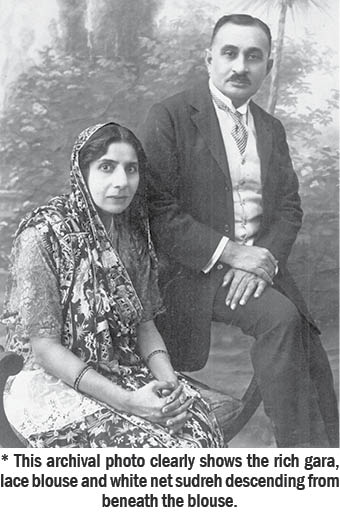 .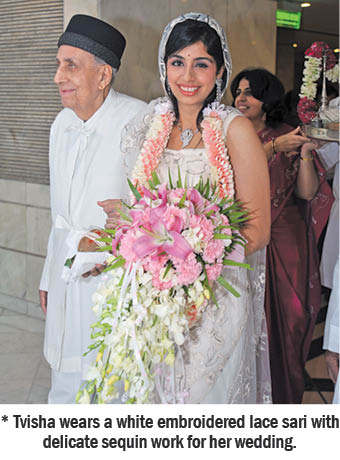 Intercultural amalgam continued. The Indian Ambi and Persian Cypress combined to create powerful motifs for pallavs, which included Chinese baskets symbolizing plenty, within their space.
The Imperial presence of Europe brought amalgamation of scallops, bows and ribbons and thus four cultures came together in the Parsi sari.
To understand how Chinese embroidery and Persian motifs blended with European design and Indian patterns to create 'Parsi embroidery' in India by Parsi women in their homes, we have to look at the grass root settlements of South Gujarat.
Until the early 1960s, Chinese 'Pherawallas' or textile vendors, came regularly in the winter season to family homes across Gujarat, the Deccan, Bombay as well as Calcutta, wherever Parsis settlements were to be found. Unlike their Jain neighbours, even in the heat, Parsis favoured silk rather than cotton because it could take the heavy weight of embroidery. So, the Chinese traders came primarily to Parsi homes. They came as a group but divided places into specific regions, so only one Chinaman would come regularly to a household.
(Watch this space for the concluding part of the series in the next issue of Parsi Times.)
.
---
* [All images are courtesy: Parzor Archives]
Latest posts by PT Reporter
(see all)