Indian-born Canadian actor, born to Parsi parents, Nazneen Contractor, known for her roles as 'Layla Hourani' in 'The Border' and as 'Kayla Hassan' in '24', recently made history for being the very first person of Indian and South Asian descent, to play the lead role in a Hallmark movie, namely, 'The Christmas Ring' which aired on Hallmark Channel on 7th November, 2020 and on the W Network on 15th November, 2020. 
Brilliant and talented Nazneen Contractor, has been passionate about being acting since she was 16 years old. She has starred in an array of series and films, including currently starring on the primetime CBS drama, 'Ransom'. Her latest release, 'The Christmas Ring', is about a reporter (Contractor) who searches for the love story behind an antique engagement ring. With the help of the ring's owner's grandson, they learn the legacy left behind by his grandparents.
In an interview with anokhilife.com, Nazneen stated that she was thrilled to be the first East Indian lead of a Hallmark Christmas movie. "I loved everything about the role and my ethnicity is incidental to the story. Honestly, Hallmark could've gone with any ethnicity for this role, the fact that they went East Indian is a watershed moment. I am always so proud to represent my culture and heritage on screen." Her role as 'Kendra Adams' in the film and its script written by Anna White, highlighting the themes of family, love and sacrifice, resonated with her as she holds these very dear to her heart. "Also, Kendra Adams, was unlike any other character I'd played, so it's always fun to do things that are not in your wheelhouse as a performer. And lastly, my Mom is a huge Hallmark fan, so I had to do it for her!" she added.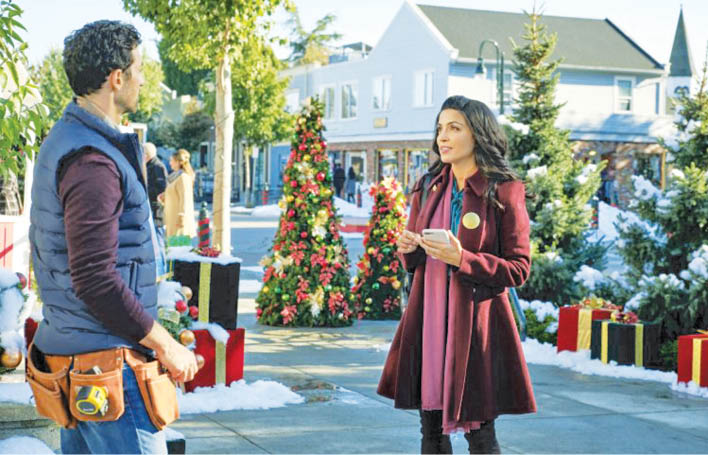 Making an important statement as regards the significance of diversity in the entertainment industry and in life, she said, "Positive results happen when diverse storytellers, actors, directors, and producers are involved both on-screen and behind the scenes. If there are not more diverse individuals who are included in the structures of power that disseminate the ideals through television and movies to the world, then nothing can change… Ethnicity and race makes us unique. I moved around a lot as a child, and I was always the minority. When I came to Canada, no one could pronounce my name properly, or they would make fun of my last name…and I remember so desperately wanting to change my name to something like 'Sarah' or 'Kelly'. I just so badly wanted to blend in and feel 'normal'. But, as I got older, I realized it was my differences that made me stand out and these  ultimately were my keys to the door. Embracing my differences, my culture, and my Zoroastrian heritage ended up being a real draw to the people I encountered in the industry."
"One of the lessons I hope people take away from 'The Christmas Ring', is to follow your heart. There is no greater truth than this – when we follow our heart, we cease to have regrets. I hope the viewers have as much fun watching the film as I had making it. Every laugh and smile you see on my face is genuine!" she added. 
Nazneen will next be seen in Spiral (the new Saw film with Chris Rock and Samuel L. Jackson) that's due for release on May 21, 2021, as well as the action film, 'Trigger Point', starring Barry Pepper and Colm Feore.
Born in Bombay to Parsi parents, Nazneen moved with her family to Nigeria when she was just seven years old, to finally settle in Toronto, where she spent the majority of her childhood and young adulthood. After the hit Canadian drama series The Border wrapped up in 2009, she moved to Los Angeles, USA and married English actor, Carlo Rota in April, 2010. They have a son and a daughter. 
Her impressive acting repertoire includes having acted in films including 'Seance – The Summoning' (2011); 'Star Trek Into Darkness' (2013); 'Tiny House of Terror' (2017); 'The Organ Donor' (2020); and series including 'The Border' (2008-09), 'Rules of Engagement' (2010), 'Bones' (2014); 'Scorpion' (2015); 'Chicago P.D.' (2016); and 'Star Wars Resistance' (2018-20), to name a few.
Latest posts by PT Reporter
(see all)