A short video clip released by ET Online, shares essential pearls of wisdom, by none other than Ratan Tata himself, serving as crucial guidelines that we all need to imbibe and implement as we enter 2021. "The year 2020 will go down in history as literally the most unprecedented year this planet has ever seen. For the first time, from my perspective, it's hard for me to say where we are headed or what's in store for the year ahead. This is a test for the human race, and I am confident that we will find a way," said Ratan Tata.
Four Guidelines By Ratan Tata To Keep In Mind As We Enter The New Year:


Let's not take the universe for granted.


There is a large power that governs us. Let's learn to live with humility and gratitude, as life is uncertain… We must do our best to keep ourselves safe by co-creating solutions that address all humankind.


Technology is transforming the way we eat, live, learn and play – let us be brave enough to embrace it and find solutions collectively through collaboration.


And lastly, to be a part of this high world transformation that is happening around us, we need to foster a culture of innovation that converges with the right investment without fear of failure.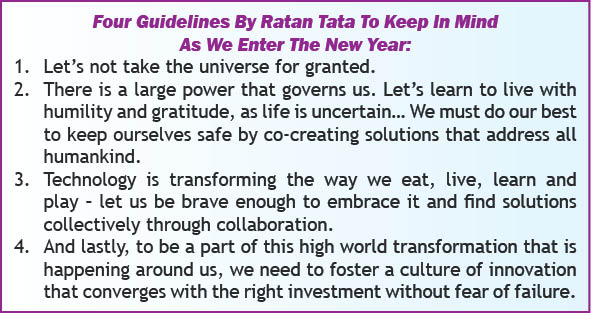 Latest posts by PT Reporter
(see all)