As soon as Farida Fuiji's club announced a Sunday Brunch, there was no peace in her third-floor Rustom Baug flat, since her hubby – henpecked Hormusji wanted a romantic brunch for two, while Farida wanted to take along her boy-friend, the karka-baroos Soli. This was exactly why Hormusji called him 'Soli Sales-Tax', since, like the tax, there was no avoiding Soli!! When Hormusji married Farida, it was love at first sight, with her Bank-account and at that time, she acted like a garib-gai but after the wedlock, it was a deadlock for the poor guy as she soon became a wild-buffalo!
And so, the day of the Sunday-Brunch arrived and Khadhro Soli didn't have breakfast that day so that, in his words, dabavi ne khavai! He arrived at Farida's flat from his house in Chikalwadi, at seven o'clock in the morning and plonked himself on her dirty vaas-marto black and golden tapestried sofa. The gangubai, who never liked Soli asked him, "Sales-Tax sahib, tumcha ghar-baar naahi? Roj roj yethey yetey? Sharam nahi?" Soli, the gher-bhangoo pretended not to hear!
It was time to go and Hormusji drove his car while Farida and Sales-Tax sat at the back like two peas in a pod. Soli, in his stupid Safari, which looked like a baba-suit and Farida, in her stupider white-lace mini-dress, displaying her frightening thunder-thighs. They arrived at Farida's mid-town club and soon settled on their table.
Khadhri Farida went to the buffet-hall and opened each vessel only to find that it was empty. She marched into the manager's office and fired the manager, Shri Murlidhar Mangalam Muttuswamy saying, "Where's the food? You are only heating the vessels! You have mentioned 12 noon in your circular and it is now almost 12:30! What kind of service are you giving us?" The manager pacified her and politely said, "Sales-Tax Sir and you can order beer. By that time, the food will arrive."
The food finally started arriving and Farida announced to all sitting on her big table: "Come on folks, the food has come. Let's all run to catch our place in the line. So saying, she ran like a bull and stood first in the line. Soli stood behind her. Lo and behold! They were the only two people in the line as everyone knew that only papads, kachumber and achar had come. The dummies stood there for 15 minutes like bhikharis and finally returned to their table for more beer. Soli, as usual, got drunk and recited a poem:
"Apna Saath, Apna Vikas,
Hormusji Ka Daru,
Aur Mera Glass!"
Farida: Wah! Wah! Soli-mian! Kya Farmaya! Mashah Allah!! Now, I'll say a shayari…
Aam Gaye, Anar Gaye,
Kachchey Limboo Reh Gaye,
Sachchey Aashiq Mar Gaye
Aur Hormusji Reh Gaye!!
Everyone on the club-varanda clapped and requested ek aur shayari but in Gujrati so all the Parsis can understand it better. Farida ney chaavi laagi and off she rattled:
Tapeli Par Tapeli
Tapeli Ni Ooper Paan,
Hoon Toh Katrina Kaif,
Aney Soli – Salman Khan!
Now, while this zabardast shayari mehfil was going on, the first batch of members had already helped themselves to the buffet and about 80 were waiting in a loooooooooong queue,  but our half-drunk hero, Soli, jumped the line and stood first, only to be told, "Excuse me sir, there's a line of about 80 people." Soli lagaoed the Amitabh Bachchan dialogue:
Hum Jahan Khadey Hotey Hai,
Line Vahan Sey Shuroo Hoti Hai.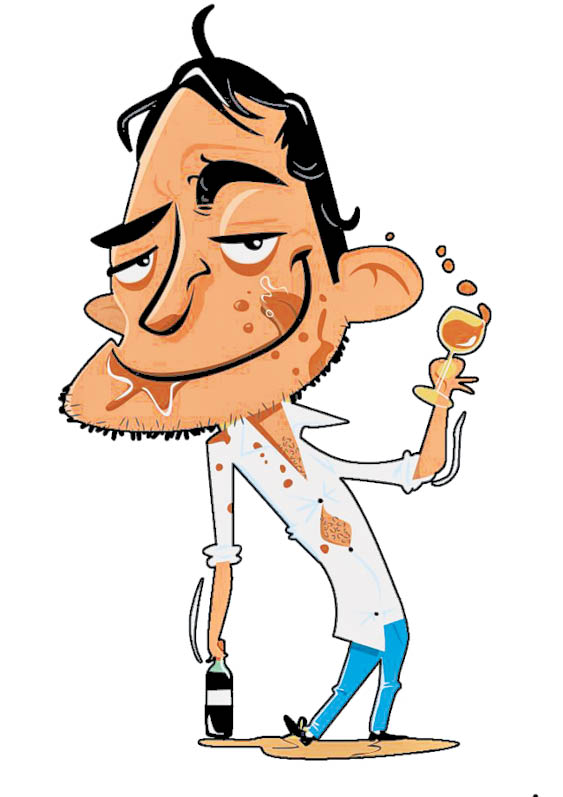 Three members physically lifted up this half-pint Soli-batak and carried him right till the end saying, "Stand here for your turn." Farida came running to her lover's rescue and they quietly stood without any further Chooo-Chaa.
They stood for more than half an hour before their turn came but everything was practically over. No ham, bacon or salami, which were Soli's favourite. That's why he loved Farida's huge salami-like arms! They were the last in line, standing like sophisticated beggars, only to be told to return to their table! Soli had more mafat no beer and was in no position to walk. Every time that half-pint tried to get-up, he automatically fell back into his chair and became a sitting duck for jokes on the adjoining tables.
Hormusji: Eat something, Tuney laagi gayoj!
Soli: Who says I am drunk? I can stand my drinks. So saying, he got up to sing:(Courtesy:Namak Halal)
Thodi Si Jo Pee Lee Hai,
Chori Toh Nahin Ki Hai!
Oh Silla, Oh Pila, Oh Mehra,
Koi mahney pakro, Koi Sambhalo,
Kahin Hum Gir Na Padey!!
By now Farida was also tipsy and did Norah Fatehi's item number, singing: Oh Saaki, Saaki Re! She even tried to do belly-dancing like Norah but fell flat on her papeta jevoo naak. The other guests were totally cheesed-off and called the Manager, Shri Murlidhar Mangalam Muttuswami to see the vulgar spectacle. The Manager was a very practical person. He stuffed some sandwiches into Farida's and Soli's mouth, requesting Hormusji to get some food for them.
Hormusji, who was a cashier at Ram Bharosey Hindu Hotel, before marriage, loaded three plates with spaghetti as that was the only food item left, balancing the three plates when khadhri  Farida got hyper and impatient like every time she saw food. She gave one hard dhamelo on the poor husband's back saying, "Chaloni, Chaloni, here we are dying of hunger and you are walking like bava-na-bagicha-ma!!"
Now all clever readers of Parsi Times already know that Farida's hand is like Sunny Deol's  Dhai-Kilo-Ka-Haath -Aadmi Oothta Nahin, Ooth Jata Hai! This is exactly what happened. Poor Hormusji fell down like Humpty Dumpty, had a great fall, and while falling, a plate full of spaghetti fell on Soli Sales-Tax's head, giving him the latest hairstyle you ever saw!! Even his ugly little face was all covered with spaghetti!
Hormusji: Now I'll call you Soli-Spagetti!
The Manager, Shri Murlidhar Mangalam Muttuswami got really annoyed. He admonished Farida, "Madam, what sort of behaviour is this every time? We have tolerated enough. Whenever there's a dinner or brunch or Bar-b-q, you are the first to book your table. But this is the limit. I'll request the Committee to change your membership and put you on probation.
Dear PT readers, as this goes to print, Farida is on probation and Soli Sales-Tax na mafat-na-meva-na-jhaar-sukai-gaya!!
Latest posts by Ruby Lilaowala
(see all)