The sprightly 73-year-old Arnavaz Jal Mistry is one of the most popular names in the community. Known for her inexhaustible and constant community service and humanitarian initiatives, one is left in awe, marveling at her energy, passion and drive to offer selfless service to humdins, for over the past three decades of her life.
Arnavaz Mistry's early life was quite regular – married at the young age of 18, she found happiness devoting her time to the upbringing of her two daughters, Yasmin and Mehroo. Once her children completed their education, Arnavaz felt the need to explore new horizons. Always inclined towards helping others, she now wanted to make a greater difference in the lives of the less fortunate. The opportunity presented itself in 1987, when she met with Mrs. Silla Kavarana, who asked her to join as a Social Worker at the JJ Hospital's Parsi Ward.
Since then, there has been no looking back, as Arnavaz dedicated herself completely to social and community service. Sharing how her family members would sometimes tease her, she says, "they'd often tell me that I am too tired to come with them for dinner or a movie, but I'm ever ready to visit a hospital or anyone in need!"
A Great Legacy of Selfless Endeavours!
Several organizations and countless destitute and under-privileged people have benefitted from her tireless zeal to help them. In addition to Community Service, whichincludes her association with the Garib Zarthosti Anaj Fund, J.N. Petit Library, Gustadji Menty and Homi Chiny Charitable Trust, Z.T.F.I and Young Rathestars to name a few, she's also associated with the National Association for the Blind, the Kamla Nehru Blind School, the Jai Vakil School for Children in need of Special Care, Dinbai Pattuck Trust, Don Bosco Shelter and Ackworth Leprosy Home. She also makes her services available at the Gamadia Clinic, Masina Hospital and the Parsi General Hospital and is the Chief Organizer of the BPP Matrimonial Bureau! Who can forget her landslide victory during the BPP Elections when she became a Trustee in 2008?!
While working at the Parsi Ward of the JJ Hospital, she got actively involved in its renovation and upkeep, which was then so dilapidated that even the impoverished patients were hesitant to take admission there! To raise funds, she established the 'Jal Minocher Mistry Memorial Foundation' where she functions as trustee. Under her able supervision and guidance, the JJ Parsi Ward now nurtures the warmth of a home and where the destitute seniors get treatment and can spend their twilight years with the care and dignity they deserve.
"Hailing from a humble background, I know what it feels like to have to go without," she explains. Recounting the experience of her mother, she says, "My mother would have to wait for hours to get a small dole from the Stree Zarthosti Mandal at the RTI. When I became a committee member there, I ensured that I didn't keep the poor women waiting to collect their dole."
Never one to refuse any work, she is completely hands-on when it comes to those who are under her care. In fact, she even completed a professional hair-cutting course with Schnell Hans so she could give free hair-cuts to the poor! She has been felicitated for her dedication and efforts through the years by numerous organizations, including the Bombay Parsi Association, Mancherji Edulji Joshi Memorial Trust, Parsi Punchayets of Ankleshwar and Bharuch as well as being named 'ZONTA Woman of the Year (2011)'.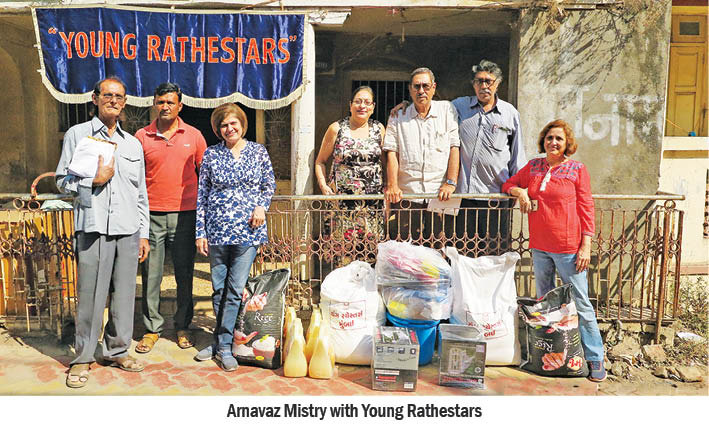 Bidding Adieu to Parukh Dharamshala
Adding the Parukh Dharamshala to the list of organizations to which she devoted her time and efforts was just a natural progression. "At first, I'd just visit.. not in any official capacity. But Mrs. Kavarana advised me to join the committee in 1995, stating I could do much more for the residents if I held an official post. So I did, and later, in 2008, I became the Chairperson of Parukh Dharamshala."
There is a lot of work that is involved in the being the Chairperson of such an institution. "It's not just about attending meetings or just signing a few papers. I have been completely involved in running of the Dharamshala." She attributes great credit to the Bombay Parsi Panchayat (BPP) for its support to provide the necessary funding and manpower to keep the premises neat and clean, to ensure that the residents got nutritious food as well as medical aid in the form of free medicine. Those requiring hospitalization are taken to Parsi General Hospital. The last rites at Doongerwadi are also organized when a resident passes."
Known to treat the residents with lots of love and care, she adds, "Over the years, I've given respect and love to all the old residents. I help them get admission here. We organize numerous monthly programs to entertain them and we celebrate their birthdays. During 'Avan Mahino', I would take those residents who are fit to walk, to Chowpatty for offering prayers and then we would treat them to bhel-puri and ice cream. Every year, I sponsor a one-day picnic to my Lonavala bungalow for all the residents, where we arrange the transport, food and all facilities to make their day memorable. We visit the Agiary and the dam there and play fun games like Housie to ensure they have fun."
Arnavaz Mistry has given her heart and great toil to the Parukh Dharamshala for 25 years. This year she resigned as the Chairperson, and needless to say, the residents are quite grief-stricken as they have gotten used to her kindness, caring and giving nature. But she says, "It is time for new blood to take over the reins of the Dharamshala. Their new ideas will only help make things even better for these dear residents."
Looking to the Future…
When asked about some advice she'd like to share with today's youth, she says, "They should study and make something of themselves. They must stand on their own feet and have goals in their life. Also, take care of your parents, give them the respect and love that is their due. When the 'Holiday for Youth Program' children would visit JJ Parsi Ward, I would advise them to spend at least an hour each day with their grandparents. The elderly crave respect and time – that is the least one can give them!" How very true!
Her motto provides the perfect conclusive note, "I shall pass through this world but once. Any good therefore I can do, or any kindness that I can show to any human being, let me do it now. Let me not defer not neglect it, for I shall not pass this way again." Here's wishing Arnavaz Mistry – the Angel of Mercy – good health and greater power as she goes from strength to strength to fulfil her life's selfless missions!

Latest posts by Razvin Namdarian
(see all)