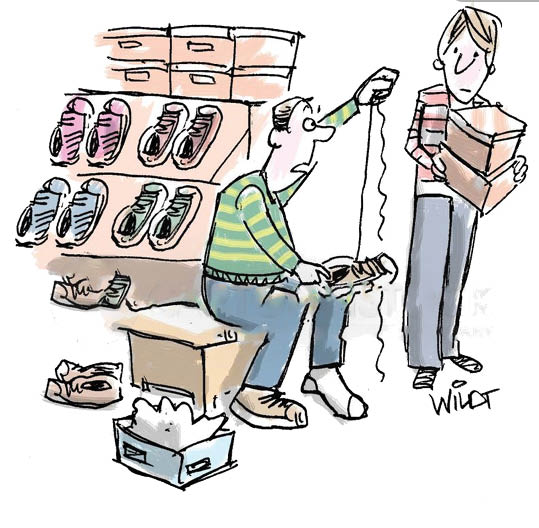 Meherbai was a voracious reader as you all know by now and she had just finished reading a book by Prof. Alex Gardner – a retail-psychology expert who advocated that shopping is good for marriage, especially shopping for shoes! For the husband, it lowers blood-pressure and anxiety. For the wife, it raises her self-esteem and prevents mental-depression. 
Meherbai told her bitter-half, "Throw away today's blood-pressure pills and let's go shopping for shoes. It will lower your pressure!" Meherwanji, who was a 'complete man' (a la the Raymond's advert) also loved shopping, especially shoes. He had more shoes than his wife, with the result that Meherbai's shoe-shelf had five pairs of male-shoes!
Now, news from the frontier of science and psychology says that whatever your circumstances, whatever your genes, you CAN make yourself happy because happiness is an option and YES!! we can choose happiness at the right place. For our Meherbai, the right place was a shoe-shop. She loved shoes. Even when the couple visited Matheran, she bought fifty pairs of the famous miniature chappals and three pairs of shoes to wear. As they were deciding, Meherwanji insisted that she wear a mask.
Meherbai: But your friend, Ustad Gustad Ghadialy, never wears one on his morning walks!
Meherwanji: What shall I say about my friend? Everyone knows that Gustad Ghadialy is illiterate. Today, an illiterate person is not one who hasn't been to school, but one who doesn't wear a mask!
Meherbai: We are both safe since we have taken our vaccines.
Meherwanji: No, not completely safe – it's like people wishing you a 'Happy Married Life' on your marriage – but is there a guarantee on it?
On reaching the Mall, the couple first went to a large Departmental Store on the ground floor, as it had a big stock of shoes. The salesman rendered excellent service – he first washed Meherwanji's feet with dettol soap and dried them with a towel. Then he sprayed sanitiser on them before he made him wear the selected pair to maintain complete hygiene. Meherwanji bought them immediately. The store manager asked Meherwanji if he wanted anything else.
Meherwanji: Yes, I would like to buy some underwear but seeing the dedication of your staff to maintaining high standards of hygiene, I have changed my mind!
At the Mall, Meherbai went from one shoe shop to another, making the poor sales-persons take out every variety like high-heels, kitten-heels, flats, pink and white and blue shoes, button-shoes, bow-shoes and after what seemed like ages, she got off the sofa and said, "They're nice but they're not me."
Meherwanji was no better. While his wife tried the shoes, he tried the salesman's patience by trying on a dozen pairs and being honest to the point of being blunt, he would tell the salesperson that he never wanted to buy a new pair unless something really caught his fancy – it was more of a time-pass to him!
After four hours of flitting from shop to shop, Meherbai said, "Mehella, I liked the sixth pair in the second shop or was it in the third shop? So the couple did an about-turn and went searching from shop to shop, saying, "Not this one, Not this one"!  
Meherbai: I can recognise the salesman. He was tall like Amitabh Bachan, handsome like John Abraham, had a Parsi nose like Shahrukh Khan, hairy chest like Anil Kapoor and wore white clothes like Jeetendra.
Meherwanji: Were you checking out the salesman or the shoes? 
"Both," replied Meherbai honestly!!
They found the shop after recognising the salesman. Meherbai wanted to see the twenty pairs that she was shown three hours ago so she could decide. She tried them all, one by one, until a lady came and sat next to her. She was wearing crimson pumps. The lady raised her foot, turning it this way and that and Meherbai was able to see the high heels and a tiny bow on the side.
"Put back your 20 pairs. I want crimson pumps with tiny bows on the sides," she told the salesman. 
"These are Jimmy Choo's," the lady said.
Meherbai deliberately joked: Oh God! I thought they were yours. Now what will Jimmy Choo wear?
Meherwanji: Don't do Ghotala-Ma-Gos!! It's a brand of very expensive shoes which Parsi women sometimes ask for as a part of alimony settlement in the Parsi Divorce Court. And by the way, how many shoes do you want? There's no place for another shoe-box. Where will you put it? Maatha par?
Meherbai: No darling – on your shoe-shelf. 
Meherwanji: You have already put three of yours on mine!!
There was no use arguing further so they both left the shoe-shop. Previously, the sales-man saw them off saying, 'Come Again' but this time, he must have muttered under his breath, 'Don't come again'.
Meherwanji: How many pairs do you already have at home?
Meherbai: Less than the number of pairs you have.
Meherwanji: Why do you always want new shoes?
Meherbai: They make me feel renewed, transformed, beautiful – why do I want to wear red lip-stick and nail-polish? Or a pearl necklace? Or jhumka earings? I want to show the world that I respect and honour my physical self. Also, the response of appreciative glances, which may last only for a second, makes me happy! We women have adorned ourselves through civilizations, like Egyptian, Greek, Roman, Mayan and Harrapan. Even in primitive cultures, where people didn't wear clothes (or much of them), they wore jewellery, tattoos or adornments made of grass, flowers, stones and sea-shells!! Dressing-up has been an integral manner in which humans have been socially communicating since the beginning.
Meherwanji: Then how come your cousin, Banu Batak keeps only two pairs of shoes? One golden for Lagan-Navjotes and one black pair for funerals, despite being so comfortable financially?
Meherbai: That's because poor Batak's husband dosen't take her anywhere socially, except Lagan-Navjotes and Paidast. These are the only outings they go to or that's what they want us to believe! Bloody liars!
Meherwanji: I remember the husband actually saying that they only go to weddings and navjotes, patra-chatwa or to funerals to shed crocodile tears. Meherbai, you should have married such a Ghel-sappo!
Meherbai: Overyu-mahra-par-thi! Besides, even after half a century of marriage, I'm still in love with you – my farnar-harnar-mauj-majha-karnar var! Hubby dearest!
Khallas!! Meherwanji ne chaavi laagi. Flattery worked! He got so flattered that he went back to the shoe-shop to buy not one but two pairs of shoes for Meherbai. It's a different matter that he bought two new pairs for himself also!!
The very next day, 'Lockdown' was announced in Mumbai. Meherbai asked Meherwanji to stay at home. "Lock-down no meaning jaanoj ke? Police tamuney lock-up ma mooki desey if you loiter!" she said.
Meherwanji: Yes, my jaan! In lock-up, you are under Police-custody, while in lock-down, you are under wife's custody! Also, police lock-up is bailable, but wife's lock-down is non-bailable!!
Both laughed heartily and Meherbai put her new shoes on Meherwanj's shoe-shelf, as her shelf was House-full!
Latest posts by Ruby Lilaowala
(see all)