₹ 600 For Pvt / ₹ 400 For State Govts.
On 21st April, 2021, Adar Poonawalla, CEO of the Pune-based Serum Institue of India (SII), the world's largest producer of vaccines, released a media statement, where the price for the Covishield vaccine was fixed at ₹600 per dose for private hospitals and ₹400 per jab for State Governments. SII said it would serve 50% of the total production to the Government of India's vaccination program, and the remaining 50% of the capacity will be for the State governments and private hospitals.
Welcoming the govt's new liberalised vaccination policy, which would accelerate India's vaccination drive, the statement added, "The promising directives will help to scale up vaccine production, and allow state governments, private hospitals, and vaccination centers to procure vaccines directly." The company urged corporate entities and private individuals to access the vaccines through the state facilitated machinery and private health systems.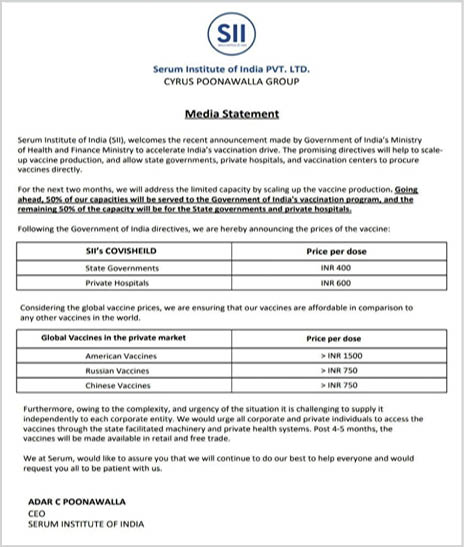 SII has reassured that the vaccine would be available in the open market in about four to five months' time. It shared that its vaccines are more affordable than the others available globally. The Central Government recently approved a payment of about ₹4,500 crore as advance to vaccine makers like Serum Institute of India (SII) and Bharat Biotech to boost production capacity as infections have been spiking at record speed in India. The funds are expected to bolster production from about 60-million doses a month to about 100 million in June-July. 
The price is higher than that fixed by the Centre (₹ 250 per dose), when vaccines are procured through Central government channels and given in private hospitals. This price included ₹150 for the vaccine. SII's price announcement received a push-back from public health voices and politicians like Rahul Gandhi, Jairam Ramesh and Sitaram Yechury, who have called for the Centre to foot the bill. Demanding 'One nation, one price', they pointed out that States with wealthier coffers could corner the vaccines, leading to vaccine inequities; adding that universal childhood immunisation has always been free. Adar Poonawala has indicated that the next lot of vaccines procured by the Centre could be at increased prices. The present additional requirement of 100 million doses was procured at ₹150.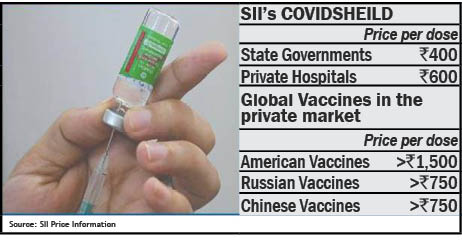 On 19th April, 2021, the Central Govt. announced that all above the age of 18 years will be eligible to get inoculated, starting the 1st of May, as it liberalised the vaccination drive to allow states, private hospitals and industrial establishments to procure the doses directly from manufacturers.
Latest posts by PT Reporter
(see all)