The 34th chapter of the community's popular summer program for our young adults – 'Holiday Programme for Youth' (HPY), was held online for the very first time, on 26th May 2021. Over 195 participants from across Mumbai and various parts of India and even abroad, including two siblings from Moscow, were all ready for the inimitable HPY experience. Due to the constraints of the pandemic, the conventional month-long HPY summer camp for teenagers, now in its online avatar, will offer ten fun-filled days of fun and adventure, where each young gun will learn, enjoy, acquire knowledge and be prepared to embrace the future with confidence and positivity.
Established three decades ago by the Bombay Parsi Punchayet, HPY aims at providing career-based guidance to all Zarthosti youth, who have appeared for their tenth Board school exams and are awaiting the results. With the pandemic descending upon the world since last year, HPY had to be cancelled, much to the disappointment of the children. So, this year, HPY welcomed both batches (2020 and 2021) with open arms. 
The HPY Organising Committee comprises Chairperson and Trustees of BPP, as also BPP CEO – Aspi Sarkari and Deputy BPP CEO – Shahnaaz Khambatta – Deputy CEO of BPP; Bakhtavar Dastur – Asst Executive; dynamic mentor – Diana Marfatia along with Ayesha Mehta, Zaara Dastur, Jeyhaan Carnac, Sanaya Mehta, Danush Dumasia, Vaishta Cooper, Zehan Tafti, Airyaman Master, Meherzad Bhadha, Shazen Elavia, Sheroy Cooper and senior organizers – Huzan Forbes and Hormuz Ragina, who have put in tremendous hard work to ensure HPY is a super success. The event was hosted by popular Jam Master – Hormuz Ragina, in his inimitable style.
Firstly, a minute's silence was observed for former BPP CEO, late Cawas Panthaki. The function commenced with a short prayer by Er. Dr. Ramiyar Karanjia, invoking the blessings of Ahura Mazda. He said, "As we progress in life and during the days at HPY, one should accumulate knowledge and information from the outside world, which will enable us to kindle the innate wisdom from within." He urged everyone to stay safe; have a healthy and happy life. He concluded by wishing Diana Marfatia and her team success.
Hormuz welcomed all to the new normal atop the virtual platform. He provided a lucid understanding of what the HPY is all about as also its activities and terminologies including 'Achievers', 'Best Speakers with Unmatched Wisdom Sharing Career Advice'; 'Creators', 'Fun-filled activities', 'Hobbies', 'Instant gratification', 'Killer Judo sessions', 'Lunch Breaks', 'Masti and Maja', 'Prizes and Rewards for all the hard work', 'Run-away models', 'Talent Competitions' and most importantly 'Unforgettable Memories' which bring all 'Zoroastrians' together.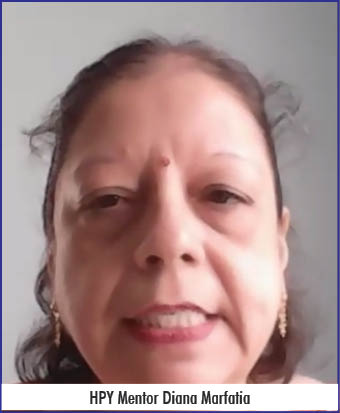 Mentor Diana Marfatia, popularly called 'Dee', was introduced as an inspirational guiding figure behind the success of HPY and its participants who have gone on to make success stories of their lives. She greeted BPP trustees – Chairperson – Armaity Tirandaz, Trustess – Kersi Randeria, Noshir Dadrawala, Viraf Mehta and Xerxes Dastur, principals of schools, the press, parents and children. She lauded the BPP for their support through the years. "HPY has completed three decades and more, touching the lives of one whole generation. In difficult times like these, they (BPP) have taken up the challenge to conduct HPY virtually," she said. 
In addition to options on career guidance, HPY offers children leadership training, personality development, music, dance, martial arts, yoga and sports. Many successful ex-HPYites return as speakers and resource persons. Diana concluded saying, "When the program was conceptualized 34 years ago, nobody imagined it would be as successful or last this long. In fact, they are still not sure what lies ahead but what they are sure of, is that a fresh generation of young minds shall surrender to a kind of magic called HPY!" Next, a video screened HPY's song anthem, written by Raika Guzder and music composed by Hormuz Ragina and Peshotan Kapadia. 
BPP Chairperson, Armaity Tirandaz addressed the audience, "Unfortunately, last year we had to cancel the event, but now everyone is here online and surely all ten days are packed with a punch!" She requested children to cherish it all, because they'd soon be adults choosing their respective careers, being exposed to the world of glamour, glory and emotions. She added, "In this crucial period, HPY is holding your hand and walking you through a list of career options, emotional stability and balance of mind and body. This is a new phase of life and by formulating this program, HPY would benefit all the youngsters. Diana and her team have to be applauded, as they set aside all their commitments and give priority to make HPY a success." 
She urged children to absorb the advantage of the HPY experience, where eminent speakers would share wisdom and motivation. HPY organizer, Ayesha Mehta gave the vote of thanks, as the event concluded to the rendition of the Parsi anthem – 'Chhaiye Hame Zarthosthi' and the National Anthem. 
HPY is the brainchild of Late Dr. Mehroo Bengalee. It has now grown from strength to strength under the astute leadership of Diana Marfatia, who has been a mentor, friend, philosopher and guide, pushing the children to reach for excellence in all spheres of life.
Latest posts by Binaisha M. Surti
(see all)