The Refund Of Service Charges…
A few weeks ago, in my address to community members, particularly those staying in BPP baugs, I had reported my suggestion to the Board, as regards the Service Charges issue. I had reiterated, that since the community members, who had not paid the Service Charges had been allowed to pay the rent arrears by the Board of Trustees, then it was only fair, that those who have genuinely and meticulously paid their dues, over a period of 43 months, should also be treated on par. 
My suggestion to the Board was that, given the paucity of funds, as far as the BPP is concerned, half the amount or part thereof, be refunded to the beneficiaries of the Trust; and the balance amount be adjusted against future rents, service charges, licences payable, etc.
It is crucial to address this important issue immediately, given the huge financial problems being faced by many community members facing pay cuts, losses of jobs and small businesses winding down, etc. Despite my repeated attempts to discuss and resolve this prime community grievance, unfortunately, my colleague Trustees have not deemed it fit to give this issue the importance it deserves and address its pros and cons towards a fair and equitable decision.
The Service Charges injustice has languished on the agenda. Last Tuesday, I tried raising this issue yet again with my colleagues in the Board meeting. Sadly, my colleague Trustee – Viraf Mehta continues to sabotage any attempt I make to have an informed, rational and open discussion on this issue. 
Till date, I have initiated the discussion twice, but Viraf launches into oblique personal attacks, insults, distorted facts and a loud monologue, which prevents any other Trustee from sharing his or her opinions. This has prevented any meaningful discussion from taking place, and I admit I am not in a position to share the views of my colleagues – Armaity Tirandaz, Noshir Dadrawala or Xerxes Dastur, simply because they haven't been given the respect or opportunity to get a word in edgewise!
Despite the rubbish and lies being written about this issue in the Parsi Junction, I genuinely believe, that legally, morally and ethically, the amounts that have been paid by the sincere community members, who have trusted the BPP, should be refunded. 
The whole drama that is being played out, where lip-service is being given to "recovery" of these pending dues from the wilful defaulters, is nothing but a sham meant to protect the few individuals who have lent their support to Viraf Mehta and his father. 
I IMPLORE MY COLLEAGUE TRUSTEES TO TAKE UP THIS MOST UNJUST ISSUE, SO WE CAN DECIDE UPON AND ARRANGE TO PAY BACK THESE AMOUNTS, IN INSTALMENTS IF NECESSARY, OR THEN, TAKE LEGAL ACTION AGAINST THE WILFUL DEFAULTERS WITHIN A FORTNIGHT, HEREOF. 
In the next Board meeting, I intend to once again raise this issue, and given the public display of my angst and concern, I'm reasonably confident that my so-far silenced colleagues, will now speak up and there will be a meaningful exchange of ideas and discussion on the legal position, and the way forward. 
I hope and pray that in my next communication with the readers of PT, there will be some good news, particularly for those community members, who have been rendered jobless or have had to bear massive pay-cuts, or even non-payment of salaries. 
Doongerwadi, Aramgarh And Lies…
Last week I received a call from a friend who informed me that the ghost-writer editor of Parsi Junction – Dinshaw Mehta, has claimed that I have proposed an Aaramgarh at Doongerwadi!
Nothing could be further from the truth! The facts are as follows…
Dasturji Khurshed Dastoor, High Priest of Iranshah – Udvada, speaking on behalf of the Udvada priests, had earlier shared an article in Parsi Times, expressing his concern, as well as the collective concerns of the other Udvada Dasturjis, as regards the current practice of the mandated cremation of all people who succumb to Covid-19.  
Dasturji Khurshed expressed angst and abhorrence, in equal measure, at even the idea of any priest being cremated, should he fall victim to the coronavirus. Dasturji then called up BPP Chairperson Armaity Tirandaz, not once, but twice, asking her to discuss this major concern in the BPP meeting, about the way forward. 
When Dasturji joined the Trustees on a Zoom call, he expressly reiterated his and his colleagues' strong commitment to the system of Dokhmenashini. On behalf of the priests, the laity and the entire community, he expressed his deep-rooted concern about the cremation of community members who passed away due to Covid. 
Dasturji pointed out that in almost every Indian state, there are Aaramgarhs (burial grounds) for the community. He informed the Trustees that the Udvada priests had taken the decision that if any of them or their family members should unfortunately pass away as a covid victim, they would not go to the crematorium, but would rather go to the new Aaramgarh, which is being set up in Valsad District. 
Dasturji further suggested that BPP convene a joint meeting of all the Vada Dasturjis and some religious scholars, to see if a way forward can be found, to continue with the system of Dokhmenashini and to elicit the views of the others, regarding whether the Aaramgarh would be preferred to the crematorium. 
In this meeting, after a detailed and meaningful discussion with the Trustees, the Vada Dasturjis, Dasturjis and religious scholars announced their desire to have an offline meeting amongst themselves, which also took place. A note has been sent by them recommending that the Trustees make further efforts to see, that those who passed away from Covid, can be consigned to the Dokhmas.
The trustees are, in fact, discussing the way forward and contemplating approaching the authorities as well as moving the courts, if so advised. 
Finally… 
It is indeed a sad state of affairs that my colleague Trustee, Viraf Mehta, passes on all the BPP information, every internal BPP email, every little scrap of paper, to his father, Dinshaw Mehta, who then misuses it to publish rubbish, and twists and manipulates the facts, and blatantly lies to promote his son as well as to attack me, out of his personally-stated fear, that I would be the next Chairman!
Such ridiculous political agendas need to stop and the welfare of the community has to take precedence. Whenever I have discussed with Viraf his father's dishonest writings, he has always claimed that he does not read the Parsi Junction! However, recent issues openly belie this claim. 
It was absurd and pathetic to capitalize on the news of having six of our pall-bearers vaccinated, and use this to elicit the headline proclaiming: 'Congratulations Viraf Mehta', written by his father!! Such childish promotional tactics of the son (Viraf) by his father (Dinshaw), diminishes the dignity of both – the august institution of BPP as well as its Trustee, and further substitutes respectability with ridicule. 
I take this opportunity to ask Viraf Mehta to come and work collectively with the other Trustees as one unit, as a BPP Trustee of his own individual standing, and not play the messenger and enabler to his father Dinshaw, who seems tragically and clinically addicted to political power-play in the community. Moving out from under his father's shadow will make the sun shine brighter for the community! 
As Trustees, we need to realise that instead of scoring brownie points over each other, we need to come together and work collectively, now more than ever – as our community faces one of its most critical periods, in its recent history.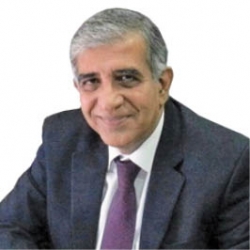 Latest posts by Kersi Jamshed Randeria
(see all)