On 31st July, 2021, Dr. Cyres Mehta – the nation's leading Ophthalmologist, also reckoned globally for his unparalleled genius and achievements – was felicitated with yet another prestigious recognition, by being honoured with the 'LEADING EYE SURGEON OF INDIA AWARD', by His Excellency, Governor of Maharshtra – Bhagat Singh Koshyari, as well as the Hon'ble Health Minister of Maharashtra – Shri Rajesh Tope.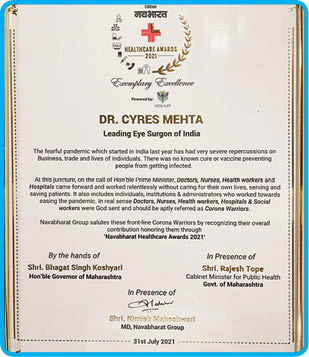 Consistently setting new standards and breakthroughs in expert eye-care, Dr. Cyres Mehta's legacy is celebrated for its path-breaking advancements in eye-care – nationally and internationally. His contributions have delivered great strides in the treatment of some of the most complicated eye diseases.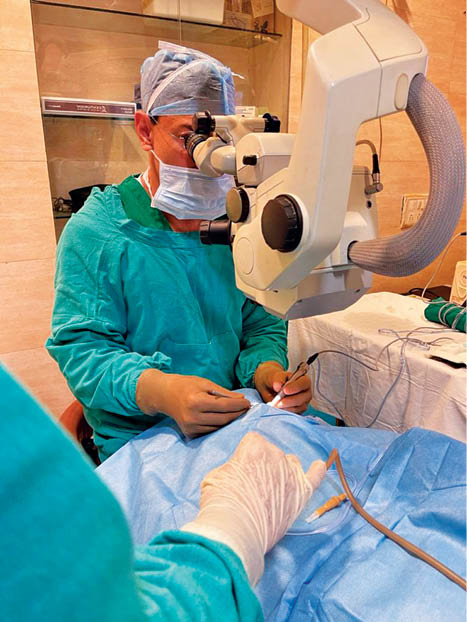 Constantly growing his repertoire of prestigious awards bestowed upon him, from India as well as from all across the world, Dr. Cyres brings immense pride to the nation and our community. He has delivered a number of 'Firsts', as a unique component of his comprehensive achievements. Some of the more prestigious 'Firsts' include pioneering Nano Laser Technology for non-invasive and painless laser treatment of glaucoma in India; Being the first Indian to be honoured with the prestigious 'Presbymania' Award (2020); and also being the first Indian to be felicitated with the prestigious 'International Medal Lecture Award 2018' by the renowned Società Oftalmologica Italiana (SOI).
Operating from his Colaba-based, plush, new clinic – 'Dr. Cyres Mehta's International Eye Center', which is equipped with the world's leading, state-of-the-art eye equipment, Dr. Cyres provides world class services and procedures for his patients. Having performed thousands of procedures for as many happy patients, Dr. Cyres Mehta's expert and practiced hands is where you can place your 'blind' trust, with an "Eye do!", to ensure a bright and colourful future for your eyes!
.
.
.
Latest posts by PT Reporter
(see all)