– Joint Statement issued by BPP Trustees Noshir Dadrawala and Kersi Randeria –
On 20th October, 2021, two sitting Trustees of the Bombay Parsi Punchayet (BPP) – Noshir Dadrawala and Kersi Randeria broke their hunger fast on the solemn assurance given by their three colleague trustees – Armaity Tirandaz, Xerxes Dastur and Viraf Mehta, that all five trustees will resign on 27th March, 2022 and elections will be held for all seven seats on the BPP Board.
Advocate Berjis Desai drafted the Consent Terms, which all five trustees unanimously and willingly signed in the Board Room, on the letter-head of the BPP, on 20th October evening (refer: Consent Terms copy). Each trustee also signed an undertaking the same evening (refer: Viraf Mehta signed undertaking).
On 20th October evening itself, Viraf said that he was "not happy" (there is an audio-visual clip) and from virtually the next day onward, there were a series of 'ifs', 'buts' and so called 'concerns' that Viraf began to bring up.
The consent terms had to be redone in the legal format required by the High Court and that gave Viraf the leeway to have his way – the wrong way of course! To buy time and delay.
He wanted changes in the Consent Terms, but his excuse was, his counsel was busy in arbitrations in Pune. The changes suggested by his counsel after a few days were accepted in the larger interest of taking things forward.
After all the four trustees had signed the consent terms (modified at least three times), Viraf was allegedly busy in meetings on 28th October and could not find even a minute to sign at just two places in the Consent Terms, as modified to his counsel's requirement!

The BPP peon went on 29th October morning to obtain Viraf's signature, but Viraf did not sign it, knowing fully well that the High Court will be on vacation for two weeks after 29th October. He maintained a stoic silence to several emails and WhatsApp messages.
THIS HAS INDEED BEEN A SORDID SAGA OF BETRAYAL AND DECEIT.
On 9th March, 2021, Viraf Dinshaw Mehta engineered the move to postpone the elections scheduled to be held on 14th March 2021.
Fast forward to October, 2021 – when Kersi Randeria and Noshir Dadrawala demanded that elections for the two vacant seats on the seven-member Board of BPP should be held by December, 2021, so that a full Board of seven trustees can start functioning at the start of year 2022. The Chairman Armaity Tirandaz (exercising her casting vote) and Viraf Dinshaw Mehta passed a Resolution on 12th October, 2021 that the elections be postponed to October, 2022. This was unbelievably unacceptable!
In protest, Noshir Dadrawala and Kersi Randeria went on a hunger fast at the BPP office from Monday, 18th October. Viraf Mehta claimed he too was fasting since Sunday 17th (but not at the BPP) and yet Viraf has the audacity to lie that he was 'emotionally black mailed' and signed under duress!! Really!!!???
We don't know whether to cry over his excuses or laugh over his immaturity.
Sadly, we have in our midst an elected trustee of the BPP, who claims to be religious but does not practice what he prays. To lie comes easy to Viraf. To cheat the electorate out of its rights comes even more easy.
To go back on a commitment made and not honor one's own solemn undertaking is neither a Parsi trait nor a Zoroastrian value.
Viraf Dinshaw Mehta may think he has scored a minor victory through deceit and foul play. But we find solace in knowing that truth is on our side and we are doing what is right. Nature will be the ultimate judge for all.
As for Viraf, he should know that facts are threatening to those invested in fraud. This has indeed been a fraud played on the community.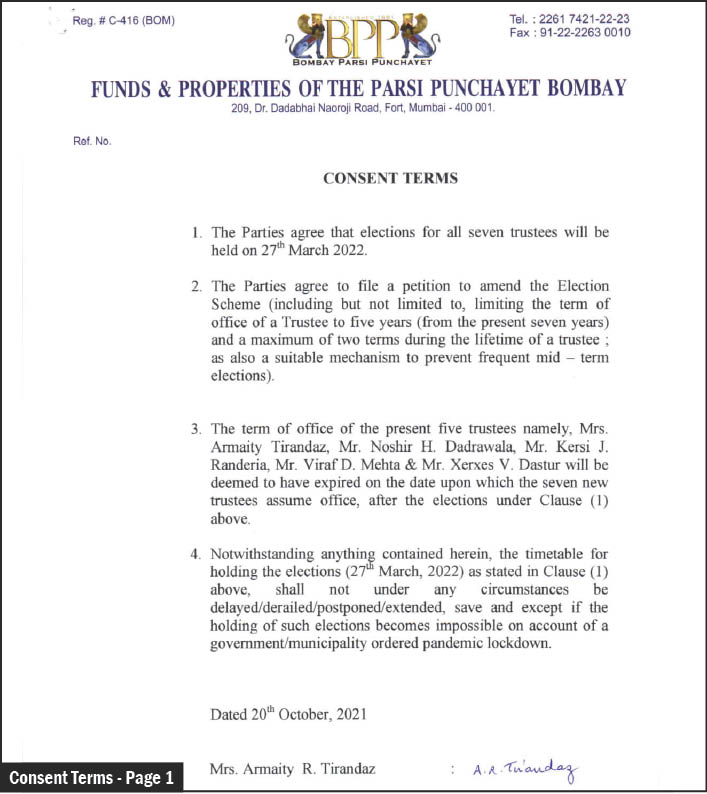 Latest posts by PT Reporter
(see all)