– By Trustees & Team WZO Trusts –
Despite a few cases of Zoroastrians affected by Covid continue to be received, the second wave (April 2021 onwards) has subsided to an extent. However, the trail of misery caused in its wake continues unabated, with community members from different walks of life on account of health, finances, etc. Since the onset of the Pandemic (March 2020), WZO Trusts have been raising funds from donors, across the world; and been actively involved in alleviating the suffering of community members.
In keeping with the policy of transparency and accountable in all community welfare projects undertaken from funds raised, the WZO Trusts shares details of support to Zoroastrians affected by Covid's second wave: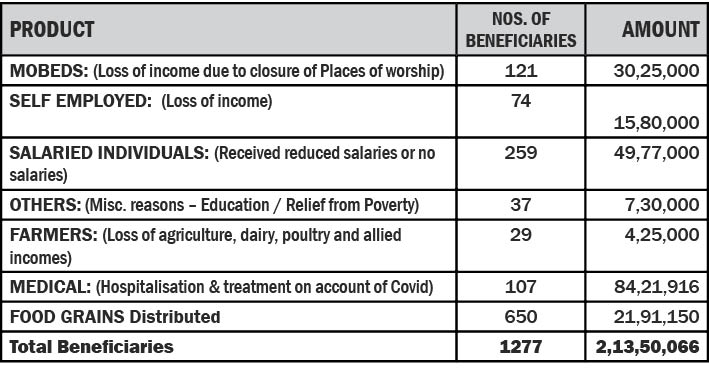 Our welfare initiatives for Zoroastrians affected by the Pandemic will continue over the next few months, which will be in addition to our regular welfare activities. During the first wave (March 2020 to March 2021) the WZO Trusts raised and disbursed aid to the extent of Rs.2,90,16,137 to affected Zoroastrians,.
WZO Trusts are extremely grateful to donors, big and small, from all over the world, well-wishers, our resource persons at various locations in India and our Administration Team which has ceaselessly been involved in this humanitarian exercise.
Latest posts by PT Reporter
(see all)