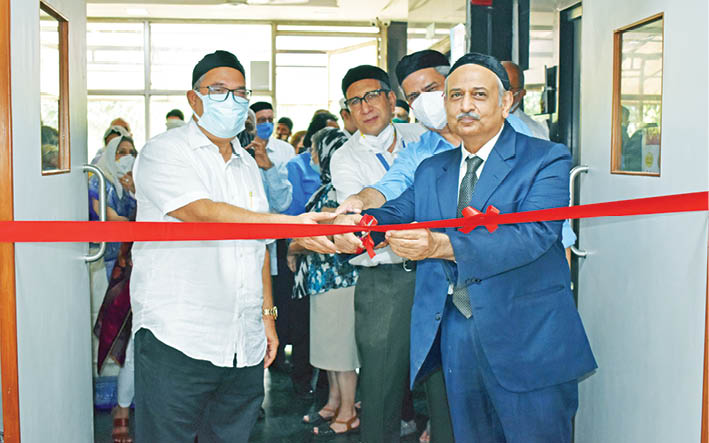 Masina Hospital has always been known for its excellent care and has treated Community members for over a hundred years with empathy and compassion. For the past few years, the hospital has focused on revival by modernization, constantly upgrading our technology, our infrastructure and our specialists to serve Mumbai even better as a multi-specialty medical hub for Mumbai.
November 18th, 2021 was a special day for Masina Hospital as we reached a unique milestone – our Main Operating Theatre modernization is complete and we also inaugurated a new Special Parsi Room facility. We began the day in true Parsi tradition, with a Jashan conducted by Er. Parvez Bajan and Er. Zahan Turel of Surat Goti Aderan, who was waging a battle of a lifetime, a year ago, after having sustained severe burn injuries and Covid infection. He was successfully treated at Masina Hospital last year at our famous burns' unit.
The Jashan was attended by donors and Parsi doctors and was followed by the unveiling of the donor plaques in the OT complex and the Parsi ward along with the Mental Health Unit. This was followed by a felicitation of donors.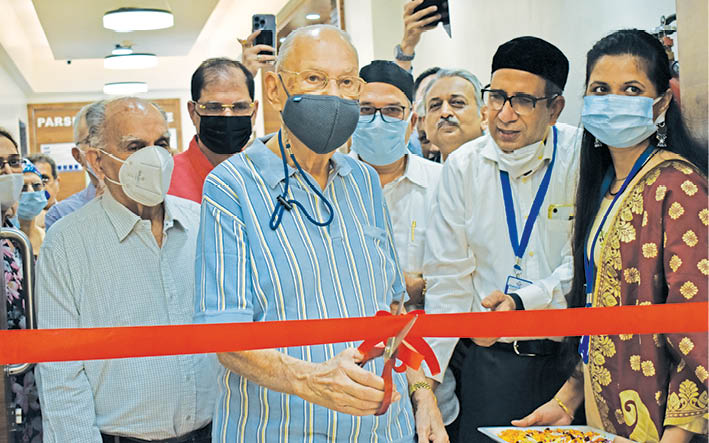 Inspired by the saying, 'Parsi Thy Name is Charity', our Founder – Dr. Hormusji Masina established a hospital for the community and citizens of Mumbai, which has survived and prospered for over 100 years. The new, improved Masina Hospital Operation Theater is dominated by the presence of three large Operating Rooms with independent Air Handling units. The rooms sport a modular design with unique anti-microbial wall cladding. Each Operating Room has Surgical and Anaesthesia pendants with Facility of HMIS and live transmission of live surgery. The OT complex design and conceptualization was a team effort. The main role was played by Dr. Gustad Daver, ex-Dean of Grant Medical College and JJ group of Hospitals and ex-Medical Director Reliance Foundation hospital. He presently heads our Advisory Board.
The new exclusive Parsi Patient Facility, offering world class medical service to middle-class and well-off Parsi patients, was also inaugurated the same day. Masina Hospital is an ideal choice for Mumbai's Parsis because of our proximity to Parsi baugs and residential hubs like Dadar Parsi Colony, Rustom Baug, etc. Our multi-speciality approach offers Diagnostic Facilities, Operating Facilities and Tertiary Care Services like Cardiac and Neuro Surgery – all under one roof. That, coupled with our legacy of excellent service, Parsi heart and fantastic staff, makes Masina Hospital a boon to all who choose treatment here!
The story of Masina Hospital is one of legacy, restoration and revival and has been made possible to a large and substantial extent due to the generosity of Parsi donors who have contributed over the last few years. We thank our donors for the Operation Theaters – Lion Aspi Darukhanawalla and Khurshed Doongaji who represent Executors and Trustees of the Estate of Shirinbai Kharshedji Doongaji, who were present on the occasion. This is the Trust's second project at Masina Hospital, the first being the wing for twin sharing rooms , amounting to Rs. 50 lacs in the Nursing Home section. Additionally, the Trust has made numerous donations for medical and educational purposes; for individual Parsis; and towards the renovation of many Parsi Agiaries. Their current donation for the modernization of the Operation Theater amounted to Rs. 60 lacs. The total amount of donations amounted to Rs. 1.1 crore.
Our other major donor was the Estate of Late Freny Parakh, represented by the executor of the will – Roshni Daruwalla – who donated Rs. 60 lacs for the OT. Besides this, the same donor has contributed Rs. 75 lacs for the Male General ward of the Mental Health unit. They have also, in association with Rotary Club of Bombay North contributed as Prime donor to a global grant over Rs 30 lacs for Total Knee replacement for poor patients which will enable the hospital to subsidize this surgery to the tune of Rs 60,000 each. The hospital will offer 100 such surgeries.
Zoarastrian Trust Funds Of Hong kong Canton and Macau donated Rs. 60 lacs towards the Operation Theater. Their help goes a long way as the trust has contributed towards other projects like the 3rd floor of Nursing Home, Kitchen and Dining hall facility. They've helped set up infrastructure during Covid pandemic and have donated funds for the upcoming general ward facilities. Their total donations over the last 4 years amounts to nearly Rs. 5 crores.
Mr. Homi Mehta Trust donated for the first time towards an entire wing of the new Parsi Special Room Facility, which includes an executive suite and two single rooms. Their donation amounts to over Rs. 40 lacs.
The executors of the Estate of Late Banoo N. Damania and Firoze Nowroji Daroga Trust, represented by Hitash Damania, have generously donated towards Parsi patients, including two rooms – triple occupancy and double occupancy, with donations amounting over Rs. 30 lacs.
Magnanimous donor, Dr. Gustad Daver, contributed a double occupancy room for over Rs.15 lacs. His contribution is also valuable in terms of conceptualizing, planning and executing the present project and all the upcoming projects at Masina Hospital.
Latest posts by PT Reporter
(see all)