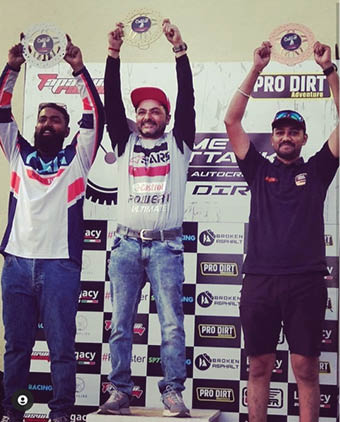 Mumbai's Rustom Baug resident, Rustom Kersi Patel, clinched an extraordinary haul of medals at the 'All-India Dirt Time Attack Autocross 2021', winning four Gold and two Silver medals, across six different categories. The event, which was held at Amanora Park in Pune, on 28th November, 2021, had over 121 riders who came down from all over India to participate.
The delighted and super-fit, 43-year-old Rustom Patel beat his fellow contestants – most being much younger than him, to win top place in the four categories: 'Four Stroke Upto 160 CC'; 'Four Stroke Upto 250 CC'; 'KTM Class Upto 400 CC'; and 'Veterans Open Class'. He notched the second spot in 'Mx Open Foreign Class'; and 'Time Attack Open Class'.
Speaking to Parsi Times, an elated Rustom shared his journey, "2007 was the year when I was declared National Champion of India in the 'MRF Supercross National Championship'. I remember accepting my trophy in Bangalore and taking the mic on the stage, with tears in my eyes, to declare that I was retiring from Professional Racing forever. Then, after 14 long years of being the Head Coach of Team Ajmera Racing India, I was only coaching but never raced.
But, last month I was invited to Assam for a 3-day boot camp to coach the Assam riders. That's where it occurred to me, on my second day of training, that I still ride fast and still have almost the same speed in me, as well as the fitness and stamina. So I took 15 non-stop laps on the Assam track and just didn't want to stop at all! That ignited the spark in me to re-enter racing again.
I knew of the 'All-India Dirt Time Attack Autocross' event, which was to be held in Pune city in end-November, and I decided to give Racing a try again – just to see if I could at least figure in the Top-5 in this race because a 14-year gap is way too long, compared to the current National Champions who practice daily and are nearly half my age! So, I headed to Pune feeling a surge of positivity – mentally and physically – on my decision to race again."
And the rest, as they say, is history, as Rustom laid claim on six medals – four Gold and two Silver – shocking everyone, even himself as he didn't just beat the reigning champions who were half his age, he beath them by a huge distance and margins – 10 to 15 seconds! "I felt very proud to be the only Parsi on the racing track there and to have beaten so many riders! More than ever, I believe age is truly just a number. It's your self-belief and your commitment which will raise you to the levels you wish to reach in life. I believe in hard work, dedication and honesty towards achieving your work – that is my mantra," adds Rustom, who is staunchly devoted to his physical fitness, running 10 kilometres daily to keep up his fitness levels, as racing is all about fitness.
Rustom Patel has a special message, especially for the youth of our community, which is known for its love for motorcycles and racing. "I want to emphasize this point to all our enthusiastic youngsters – please say 'NO' to street-racing. There are so many people losing their lives and endangering the lives of others, due to these reckless street-racing stunts they try to pull off, trying to outdo their fellow street-racers. If you want to race, show your talent on the track, and not on the streets!" he stresses, adding, "If you really want to achieve something in life, then be honest, serious and apply full dedication to your goal and you will surely achieve it."
"I thank my sponsors – Castrol Viking, for their faith in me, as also my racing team – Venom – and my entire family for always supporting me through this journey. I also extend special thanks to Anahita aunty and late Yazdi uncle from WAPIZ (Anahita and late Yazdi Desai) for all their support through these years," says Rustom
Looks like there's no looking back or stopping him now, as Rustom has re-risen like the proverbial Phoenix – all prepared to take on new challenges and bring home more laurels! Here's wishing him the very best for his next racing pit-stop – the oncoming 'Valley Run 2021 Championship', which takes place on 5th December, 2021, at Ambi Valley.
Latest posts by PT Reporter
(see all)