Parsi Times is thrilled to share that Dr. Cyrus S. Poonawalla has been awarded the prestigious Padma Bhushan Award by the Government of India. On behalf of the community, we heartily congratulate Dr. Cyrus Poonawalla on this illustrious recognition and for constantly keeping the flag of Parsi pride fluttering high!
Adding yet another proud feather to his cap and consolidating Parsi pride worldwide, Dr. Cyrus S Poonawalla, the Founder, Chairman and Managing Director of the globally renowned Serum Institute of India (SII), which produces the Covishield Vaccine, was felicitated by the Government of India with the prestigious Padma Bhushan Award – one of the nation's highest civilian honours, on the eve of Republic day – 25th January, 2022. He received the award for exceptional and distinguished service in the 'Trade and Industry' category.
"It is a great privilege for me to be amongst a prestigious list of illustrious people who have contributed to the growth of our country. I would like to express my gratitude to the Government of India for this honour. Health is one of the strongest pillars of society, and I will continue to work towards making it equitable for all," said 81-year-old Dr. Cyrus Poonawalla, who was also bestowed with the eminent Lokmanya Tilak National Award, last year.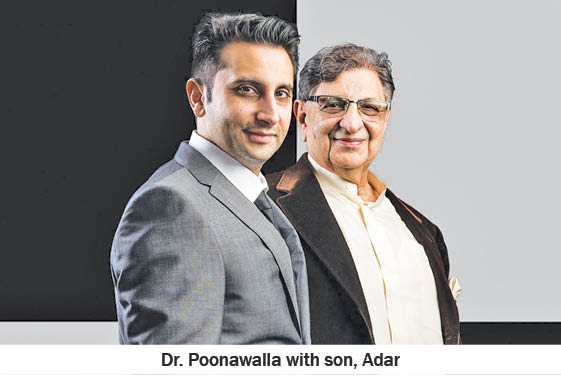 Even as colleagues close to Dr. Cyrus Poonawalla applauded the visionary for being bestowed with this 'long overdue' honour, his son, Adar Poonawalla, CEO of SII, took to social media to thank the GoI for acknowledging "my mentor, my hero, my father – Dr. Cyrus Poonawalla," sharing a picture of his father in his younger days.
Dr. Poonawalla founded the Pune-based Serum Institute of India in 1966 with the aim of manufacturing life-saving immuno-biologicals/vaccines in India, which were in shortage and needed to be imported at high prices. SII went on to manufacture several life-saving, affordable vaccines and stands today as the world's largest vaccine manufacturer (by volumes produced and sold globally). SII has partnered with AstraZeneca and the University of Oxford to manufacture the Covishield vaccine, thanks to which, India has emerged as a major vaccine provider to the world.
Alongside Dr. Poonawalla, the Padma Bhushan was also awarded to Covaxin manufacturer – Bharat Biotech's Krishna and Suchitra Ella, Alphabet CEO – Sundar Pichai and Microsoft CEO – Satya Nadella. The complete recipient list of awards comprises 4 Padma Vibhushan, 17 Padma Bhushan and 107 Padma Shri recipients, comprising 34 women and 13 posthumous awardees.
Dr. Cyrus Poonawalla was born into the eminent Poonawalla Stud Farms family, prominent in the horse-racing circuit. He studied at Bishops School, in Pune and graduated from Brihan Maharashtra College of Commerce (BMCC) in 1966. Realising early in his youth, that horse-racing had "no future in the socialist India of the time," he ventured into the arena of manufacturing prototype sport-cars, but abandoned this idea as well, as it required heavy investment. However, he kept alive his passion for collecting cars and is the proud owner of a mesmerizing collection of sports cars and custom-built limousines.
In 1966, he launched SII, contributing to global vaccine production. Serum launched its first therapeutic anti-tetanus serum within two years, and started production of anti-tetanus vaccines. By 1974, Serum Institute introduced the DTP vaccine to protect children from diphtheria, tetanus and pertussis, followed by an anti-snake-venom serum for snakebites in 1981.
Awarded a Ph.D. by the Pune University in 1988 for his thesis – 'Improved Technology in the manufacture of specific Anti-toxins and its socio-economic impact on the Society' – Poonawalla championed SII's journey of innovations. Thanks to SII, India was able to boast of self-sufficiency for tetanus, diphtheria and whooping cough vaccines, in the 1980s. In 1989, SII commenced production of measles vaccine M-Vac and within a year, it became India's largest vaccine manufacturer – the title holds even today. In 1994, SII received accreditation by the World Health Organization (WHO) to export vaccines from India and started supplying high quality vaccines to UN Agencies such as UNICEF (United Nations Children's Fund) and PAHO (Pan American Health Organization).
Dr. Cyrus Poonawalla's main aim was to make life-saving drugs and vaccines to ensure that every child stayed protected from death and disease, under his motto – 'Health For All By 2000 AD'. This culminated into the National Program of Immunization, which is largely dependent on SII's vaccines; and this philosophy has now proliferated worldwide to International UN Agencies. His lifelong endeavours towards delivering his belief in 'No Compromise with Quality' and staunch commitment to 'Health for All with affordable Vaccines', has placed SII as the nation's leading biotech company.
SII's repertoire of vaccines include those for polio, diphtheria, tetanus, pertussis, Hib, BCG, Hepatitis B, measles, mumps and rubella. It is estimated that about 65 per cent of children across the world, hailing from over 170 different countries, have received at least one vaccine manufactured by SII. SII's philanthropic philosophy is at the core of reducing the prices of newer vaccines, such as Hepatitis-B, to ensure that not just Indians but underprivileged children all over the world are protected, birth onwards.
More recently, SII collaborated with the University of Oxford and the British-Swedish pharmaceutical company AstraZeneca to make the Covid-19 vaccine Covishield. Under the leadership of Dr. Cyrus and Adar Poonawalla, Team SII has worked tirelessly over the last two years to ensure ample production of Covishield vaccine doses. SII has surpassed the 1.25-billion doses mark for Covishield and also resumed global distribution via the COVAX mechanism, to provide vaccination against Covid for low-and-middle-income countries.
Dr. Poonawalla was married to the late Villoo Poonawalla. His son, Adar, is currently the Chief Executive Officer (CEO) and Executive Director at the Serum Institute of India, and continues walking in his father's shoes, making the community, the country and the world, proud of his incredible achievements and progress of SII.
Latest posts by PT Reporter
(see all)