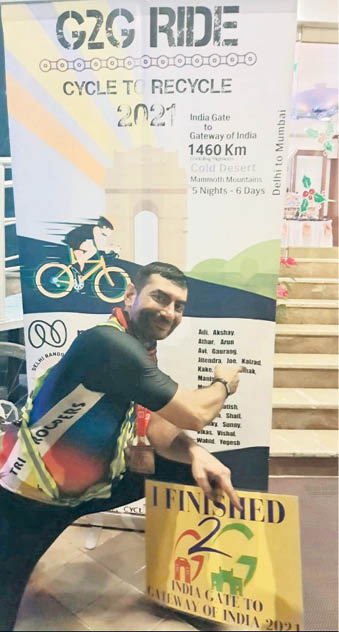 In an inspiring and impressive feat, 47-year-old recreational triathlete and passionate cyclist – Kaizad Kumana, recently completed a remarkable journey, riding his cycle across 1,460 kms, over a 6-day period from 18th to 23rd December, from India Gate, in New Delhi, to the Gateway of India, in Mumbai.
Citing cycling as his "first love," Kaizad is a working professional and wanted to share his achievement with the community to inspire the youth towards being more inclined towards sports. He started cycling over the past few years to lose weight and get more fit. As a recreational triathlete he has participated in a couple of Olympic distance triathlons, with modest finish timings.
Covering an average of 250 kms daily during this journey, Kaizad signed up for this ride in June 2021, with his coach – Shankar Thapa and his team – Tri Troopers. This wasn't a race, but a ride that tested one's endurance over this six-day journey covering nearly 1500 kms along a predetermined route. His training comprised putting in long hours indoors during the Mumbai lockdown and the rains, after which he ventured out post the monsoons on longish rides of 100 km each.
"As part of this prep, we also did a 200 km back-to-back rides over a weekend in late November, to get used to the distance and the stresses on the body. We did a lot of strength training, stretching and mobility drills to get the body used to spending long hours on the saddle. On the 23rd of December last year, I was finally able to accomplish this ride to the end point i.e Gateway of India. It took me 86 hours of riding over six days, where I was cycling for approximately 14 plus hours, daily." shares Kaizad.
Having started cycling from the chilly 8 degrees C in Delhi, Kaizad's journey culminated with Mumbai's hot and humid 35 degrees C! "We rode across the cold, fog and desert, and then across green plains into hot and dusty Gujarat highways, finally descending into the hot and arid weather in Maharashtra. In Rajasthan, we would face a freezing 10 degree C and a heaty 38 degree C on the same day! But I finished strong and I look forward to more such rides in the future, God and family willing!"
Latest posts by PT Reporter
(see all)