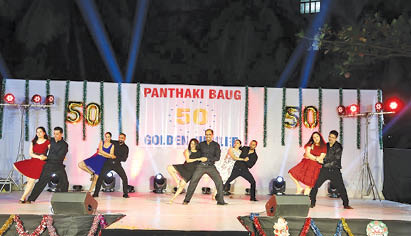 On Christmas day, 25th December, 2021 Panthaky Baug (Andheri, Mumbai) came alive to celebrate its Golden Jubilee with much pomp. Organised ably by the new PWC Committee (comprising Zubin Sodawaterwala, Eric Lath, Shahrokh Bulsara, Zubin Elavia, Mahiyar Khambatta, Percy Dangore and Kursuh Wadia), the event was held in complete adherence to the mandatory Covid protocols.
President Zubin Sodawaterwala welcomed the audience and thanked the committee for its unstinted dedication in making a grand success of the event, which was funded by colony residents and sponsors. Academic scholarships and prizes were awarded to students of class X and XII for their achievements.
The evening started with colony's seniors; soulful rendition of 'Chhaiye Hame Zarthosti'. 101 participants, across 4 to 82 years of age, came together to display their impressive talents, drawing much cheer from the crowd. Co-organisers Shahrokh Bulsara and Khushmeher Sodawaterwala conceptualised the excellent performances, with Shahrokh also teaching the 4 – 13-year-olds Parsi songs, accompanied by pianist and teacher, Bakhtawar Gandhy.
Song performances by the colony's Boy band and ladies' choir, and a spectacular Taekwondo performance by children aged 4 to 11 were much appreciated by the crowd. Model and grooming expert, Hufriya Bhivandiwalla, put together a mesmerising Fashion Show with the colony teenagers. Bollywood choreographer Sherzad Wadia directed a fab dance with children aged 9 to 13 years, while Monaz Siganporia coached the colony's ladies and a gentleman for a Bollywood performance. Professional ball-room and Latin American dance performers – Godrej Wakandia and
Delnaz Edulji, alongside Khurshid Wankadia, organised the amazing performance for the Finale, where fifteen couples performed the Waltz, Salsa, Chacha, Tango, Jive, Samba and Twist. Colony resident Porus Jussawalla's professional sound and lighting raised the audio-visual experience.
Chief Guest – BPP Trustee Kersi Randeria, greatly praised the performances and all the efforts put into this grand show. The dinner comprsing patru by Tanaz Godiwala provided the perfect end to the magical celebrations, which had all the visitors captivated from the start to the end!
Latest posts by PT Reporter
(see all)