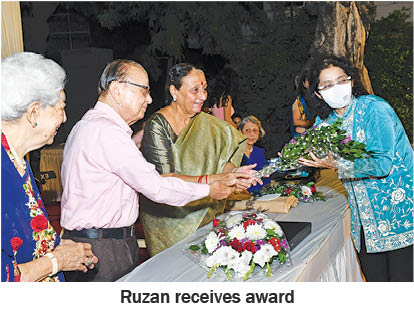 Ahmedabad-based Ushta-Te Foundation held its bi-annual Awards Function on 12th December, 2021, at Navroji Vakil Sanatorium. The function started with a Monajat performance by ZAGA children. Managing Trustee, Minni Patel gave the welcome address and Meher Medora felicitated Chief Guest – Padma Shri Yazdi Karanjia, who, true to his hilarious self, had the audience in splits with his speech. Ushta Te's Trustee, Shirin Kanga and Secretary, Pearl Sabavala, conducted the awards function.
The prestigious Lifetime Achievement Award was conferred upon educationist Shirin Kanga for tirelessly devoting 50 years of her life to working for the community and towards social service. A college professor, she has been associated with several social welfare organisations including the Blind Peoples Association, Gandhi Ashram, Brahmakumaris, Ahmedabad Parsi Panchayat and Ushta-te Foundation.
The recipients of the Ushta-Te Awards for Excellence were Khushnam Avari – Founder Director of Panache Academy for Air Hostess Training/Aviation Mgt., and for her contribution in the field of education and professional training; Kaivashin Sethna (Dastur) – an enthusiastic cyber-space related entrepreneur heading Invesics Cyber Forensics; Shenaz Gandhi, HR Head of a global conglomerate for her professional contributions and expertise; Reformist entrepreneur and Gujarat Gaurav Award awardee – Ruzan Khambatta, who works for women's safety and empowerment, and heads 'Vajra O Force' Foundation, which aims at liberating India from crimes against women; Pervin Watchmaker – educationist and recipient of numerous awards including APJ Abdul Kalam Award, Best District Principal Award, Educator Of The Year Award – 2020 and 2021; distinguished photographer – Sam Panthaky; award-winning film-maker – Burzin Unwala; and  R&D expert from Zydus Cadila – Sarosh Vandriwala was conferred an award for his contributions towards developing of COVID Vaccine.
Two 'Rustomji Contractor' Awards were given, one each, to Pradeep Patel – Secretary of National Association of Blind in Bharuch; and Vishnu Vaghela – accomplished sportsperson and football trainer – who have both achieved much in life despite being visually impaired. Similarly, two 'Meher R. Contractor' Awards were betowed upon Ramtilak Kori for performing arts (Bharatnatyam) and Amdavad Sarvar Mandal for social service. The 'Khursheed Randeria Award' for Community Service was given to social worker Kety Daruwala, who has been conducting trips to Udwada for 35 years. Urvaksh Contractor received the 'Darius Contractor Award' for excellence in education for his performance in the MBA exams (Finance). A special token of appreciation was given to Jennifer Kapadia for entertainment.
The awards function was followed by several entertaining musical performances by Shehzad Karanjia and Dilnaz Besania. The evening was hosted by Maharukh Chichgar. After the awards ceremony, Khushnam Avari – Treasurer, Ushta-te Foundation, gave the vote of thanks. The evening ended with a sumptuous dinner.
Latest posts by PT Reporter
(see all)