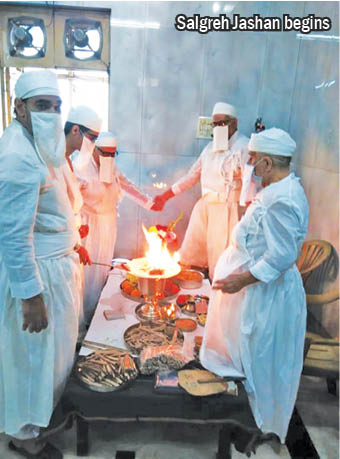 The 20th of February, 2022 (Roj Adar, Mah Meher) was a big day for Zarthostis of Thane, Maharashtra. Almost two years post the lockdown, they were able to come together to celebrate the 242nd Salgreh of the holy Atash Padshah Sahib, of the Seth Cowasji Patell Agiary. The Agiary building was decorated auspiciously in floral offerings at the main entrance and every frame within the Agiary. The regular devotees – Zarthosti ladies and gents were present at the Agiary first thing in the morning and they spent around two hours peacefully, to complete their daily prayers. A machi was offered during each Geh by Zarthosti families from Thane.
As the Salgreh day fell on a Sunday this year, there was a good attendance of Zarthostis for the evening Machi at 4:15pm and Salgreh day Jashan at 5:00pm. The special 1 Kg machi was offered to the Atash Padshah on behalf of Thana Agiary Fund. The Machi prayers were offered by young 17-year-old Er. Syamak Dastoor, who performed his
1st Salgreh day Machi and Jashan at the Patell Agiary. The Salgreh day Jashan was performed by Er. Kersi Sidhwa, Er. Adil Sidhwa, Er. Adil Dastoor, Er. Syamak Dastoor and Er. Behram Bhadha, who prayed loudly and clearly. The Jashan was followed by loban offerings to the "Jashan no Atash" by Zarthostis. A group of volunteer ladies cut the fruits of Chasni distributed to all devotees along with malido. Overall, it was a blessed and memorable evening for Thane Zarthostis who assembled at the Agiary in huge numbers after a long time.
Latest posts by Khushroo P. Mehta
(see all)