Singaporeans will now have a chance to learn more about the Parsi Zoroastrian community, numbering about 350 here, with the opening of a Parsi and Zoroastrian museum on 14th March, 2022, located at Zoroastrian House, Desker Road in Rochor. The museum showcases Parsi history, traditions and Zoroastrianism, one of ten recognised religions in Singapore.
The two-floor permanent exhibition, titled, 'The Joyous Flame', tells its story mostly through illustrated panels, comprising objects commonplace to Parsis – a silver fish decorative object used to store sugar, apparel worn during the Navjote ceremony, etc.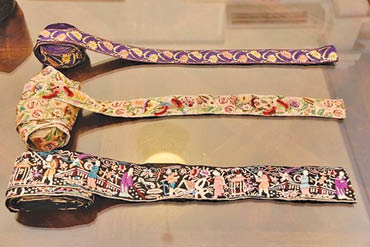 "We have never had this (museum) before, but as our numbers grew in the last few decades, the need was increasingly felt. We also felt this was important for our own community members to know more about their history and culture. We consider ourselves an important intangible culture heritage in Singapore, and hope this museum is an important window to look into and understand us," said Homiyar Vasania, President – Parsi Zoroastrian Association of South East Asia (PZAS). The exhibition is co-curated by PZAS with the Parzor Foundation, a non-profit organisation that focuses on Parsi-Zoroastrianism heritage.
Parsis trace their history in Singapore back to Muncherjee – a supposed convict who was the first Parsi in recorded history to arrive here, 200 years ago. Since their arrival, the Parsi community has become a wealthy and influential segment of Singaporean society, despite their small numbers. Here too, they are famous for their sense of philanthropy and entrepreneurial/business activities. Some of the more notable Parsis in Singapore include entrepreneur Navroji Mistri, who donated $1 million to build the Children's Wing in Singapore General Hospital; and the Cursetjees, original partners of John Little, who set up the now defunct but well-known department store of the same name in Singapore.
Homiyar Vasania said many schools, museums, organisations and researchers have approached PZAS, headquartered in Singapore, to learn more about Parsis and their traditions in recent years, and work began on the museum a few months before the Covid-19 outbreak. He said that the community faces a continued struggle to maintain a "critical mass" in numbers. For instance, it has no full-time priest for religious activities and there is no Zoroastrian fire temple in Singapore, unlike in India where flames are kept burning 24/7.
At the museum's opening ceremony, Minister for Culture, Community and Youth, Edwin Tong said that Parsis were a very important part of Singapore. "Despite relatively small numbers, the Parsi community has always been an active participant in Singapore's rich social fabric. It is a community both of deep roots and tall branches." He said that the museum would open the Parsi community up to the rest of Singaporeans. "Understanding and knowing is the first step to accepting (a different culture) which then becomes embracing and being a part of," he added.
Entry to the museum is free but visitors need to take an appointment with PZAS at:  pzas.singapore@gmail.com before going.
Latest posts by PT Reporter
(see all)