The annual Business and Industry Dinner was hosted at the Mansion House on the 7th April, 2022, by the 693rd Lord Mayor of London, Vincent Keaveny, celebrating the themes – 'People and Purpose' and 'Investing in a Better Tomorrow'. Lord Bilimoria CBE DL, the very first ethnic minority President of the Confederation of British Industry (CBI), was invited to sign the Distinguished Visitors' Book, with his signature joining those of various world dignitaries, including former US President Barrack Obama, and Emirati President Sheikh Khalifa bin Zayed al-Nahayan.
Addressing an audience of senior political and business figures, Lord Bilimoria commenced his speech outlining UK's long history of business innovation, and how this could help address the multiple challenges that businesses are currently facing; followed by discussing strategies for energy security and how the country can take steps towards net zero.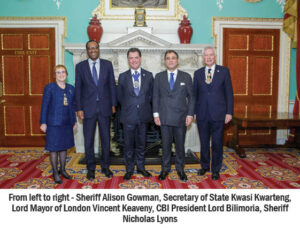 He said, "The government has been magnanimous in spending £400bn. That is the swing to hit the ball. But if you stop there, the ball will hit the net. You need to follow through to get it over the net… Let's put power behind the energy security strategy. Let's put real urgency and energy behind the energy security strategy… Diversity without inclusion is useless." On a final note, he addressed the launch of the CBI's Change the Race Ratio, which seeks to increase ethnic minority participation in business.
Lord Bilimoria is the Founding Chairman of the UK India Business Council, a Deputy Lieutenant of Greater London, a former Chancellor of Thames Valley University (now the University of West London). He was the youngest University Chancellor in the UK when appointed. He is a founding member of the Prime Minister of India's Global Advisory Council. In 2006, Karan Bilimoria was appointed the Lord Bilimoria of Chelsea, making him the first ever Zoroastrian Parsi to sit in the House of Lords. In 2008 he was awarded the Pravasi Bharti Samman by the President of India.
He is an Honorary Fellow of Sidney Sussex College Cambridge and was Chair of the Advisory Board of the Judge Business School, Cambridge University from 2015-2020 and subsequently appointed as an Honorary Ambassador.  He is also an alumnus through executive education of the Cranfield School of Management, the London Business School, and the Harvard Business School. In July 2014, he was installed as the seventh Chancellor of the University of Birmingham, making him the first Indian-born Chancellor of a Russell Group University in Great Britain, and he is the President of the UK Council for International Students Affairs (UKCISA). In June 2020, he was appointed President of the Confederation of British Industry (CBI).
Latest posts by PT Reporter
(see all)