Seth B M Mevawala Agiary, located at Byculla (Mumbai) celebrated its 148th Salgreh on 29th April, 2022 (Roj: Sarosh, Mah: Adar, 1391 YZ). The Agiary was decorated with flowers, and well illuminated with lights, with a rich carpet of rangoli designed by Prochi Bhadha.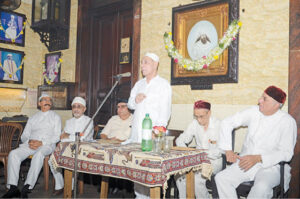 A Machi was offered in the Havan Gah at 7:00 am, followed by a Jashan in honor of the Agiary's founder, on behalf of the Trustees, by Panthaky Er. Parvez M. Bajan, along with Mobeds. 
The evening program started with a Jashan at 5:00 pm on behalf of the well-wishers and residents of Byculla, led by Er. Darayus P. Bajan, followed by a religious function. Well-known legal luminary, Senior Counsel of Bombay High Court, Firoze Andhyarujina graced the occasion as the Chief-Guest. Er. Parvez Bajan introduced him, highlighting his illustrious career, pointing out how Mr. Andhyarujina has been delivering the 'Union Budget' speech since 1994, which is well received in various forums across India. 
Er. Bajan shared an overview of Zoroastrian worship of Fire and the preservation and protection of various established Fire Temples in Mumbai and India. 
Speaking on the principles and practice of our religion, Andhyarujina explained specifically how a Parsi/Irani Zoroastrian should lead a life as per the teachings of our ancient Zoroastrian Faith. He highlighted seven issues for the Parsis to survive in this modern and changing world viz. Employment, Environment (that includes Mathra, Mithra, and Yasna), Education, Entrepreneurship, Increase in Parsi population, Modern days technological nuances and finally safeguarding our religious institutions such as places of worship, Dokhmas and properties of Charitable Trusts. He exhorted youngsters to opt for different professions and excel in their fields so as to bring pride to the Parsi Community.
Next, Navaz and Marzban Wadia gave a rendition of Parsi Monajats praising the tenets and teachings of our Zoroastrian Faith Trustee Vispi Mistry and Feroze Sethna advised the youth on careers. Er. Bajan gave the vote of thanks to all present for their support in making the function a success. The program ended with the rendition of the Parsi Anthem – 'Chhaiye Hame Zarthosti' and distribution of Chasni and light refreshments (catered by Neville Dordi). 
Latest posts by PT Reporter
(see all)