"A good father is one of the most unsung, unpraised, unnoticed, and yet one of the most valuable assets in our society."
— Billy Graham
'Father's Day', celebrated annually on the third Sunday of June, will be observed this year on 19th June, 2022.
History: Did you know that 'Father's Day' was conceptualised in the USA in the early twentieth century to complement Mother's Day? Reportedly it was first celebrated one hundred and twelve years ago on 19th June, 1910 at the YMCA in the city of Spokane, Washington by Sonora Smart Dodd. Sonora was inspired to start the Father's Day movement after hearing a sermon on Anna Jarvis, who had earlier started Mother's Day. Sonora felt Father's deserved equal recognition. After all, she had herself witnessed her father William Jackson Smart (a Civil War Veteran) raise his six children as a single parent.
Sonora was just sixteen when her mother died in childbirth with her sixth child. Being the only daughter, she shared the responsibility of raising her five younger brothers, including her new infant brother, Marshall.
Daddy Cool! Anyone can father a child, but being a dad takes a lifetime…
A common trait among all cool dads is total acceptance of responsibility and wearing it well. Cool dads don't complain about their children not listening to them; they simply stay aware of the fact that the children are watching them and knowingly that they will mimic how daddy thinks, speaks or behaves.
Cool dads are not always rich but they are always caring, loving and make the time, despite all odds, to be with their children at school-sports, dramatics, award functions… cheering for them when successful, and consoling them when not. A dad not only influences who we are inside, but also how we have relationships with people as we grow. The way a father treats his child deeply influences what he or she looks for in other people. The patterns a father sets in the relationship with his children dictates how his children relate with other people.
Young girls, in particular, depend on their fathers for security and emotional support. A father demonstrates to his daughter what a good relationship with a man is like. If a father is loving and gentle, his daughter will look for those qualities in men when she's old enough to begin dating.
However, unlike girls, who model their relationships with others based on their father's character, boys' model themselves after their father's character. If a father is caring and treats people with respect, the young boy will grow up much the same.
Where the father is concerned, his world changes from the moment he holds up his first born. His children colour every aspect of his life. While children may sometimes complicate life, at the end of it all, the experience is usually enriching and ennobling. Moments of fatigue and frustration often play hide-and-seek with moments of pride and joy. However, as the saying goes: "when a father gives to his son, both laugh; when a son gives to his father, both cry!"
When Child Betters The Father… There is no joy greater for a father than to see his child excel. Legend says that when young Sohrab threw his mighty father Rustom to the ground in the first round of battle, the heavens rejoiced for Rustom had sired a son greater than himself.
Unlike the Persian tragedy where Rustom unknowingly kills his son Sohrab, in Greek mythology, one discovers a persistent theme where fathers are killed by their sons. Uranus is killed by his son, Cronos – the Titan. Cronus, in turn, is killed by his son, Zeus – the Olympian! Hindu mythology, however, is more in sync with Iranian mythical tradition where the father wins but the son's defeat is glorified.
Role Of Father In Ancient Iran: According to the Madayan-e-Hazar-Dadestan (Book of a Thousand Judgements) which is Pahlavi Law-Book from the late Sasanian period (first half of the seventh century), the role of the patriarch of the household was to support his wife as long as she lived and his daughters until they married, and his sons until they came of age. What's more, as father he was not entitled to give his daughter in authorized marriage without her consent.
In Zoroastrian tradition, a father is expected to instill qualities of truth, righteous conduct, knowledge, wisdom, piety and wisdom in his children. This is a reflection of Zarathustra's vision of Ahura Mazda in the Gatha where he sees Ahura Mazda as the father of Spenta Mainyu (Good Spirit of purity and piety), of Asha Vahishta (Truth, righteousness and justice) and of Vohu Manah (Wise Thinking).
A father is the most loving and best friend that a son or daughter can ever have and here again, Zarathustra addresses Ahura Mazda in the Gatha as his Friya or loving or beloved friend – a friend who is loving and not to be feared. A friend whose friendship can be attained by walking on the right and truthful path; a beloved friend to share joy and success with and a compassionate and caring friend to go to when in despair!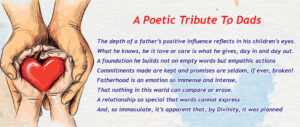 Latest posts by Noshir H. Dadrawala
(see all)