Homavazir's 11th CBDA Scouts recently held an exciting summer camp for 31 cubs, scouts and scouters, at Marazban Sanatorium in the picturesque Khandala valley.
It commenced with flag hoisting and patrols getting settled in – with seniors busying up with pioneering gadgets, and juniors practicing their creativity skills by crafting utility items from discarded scraps.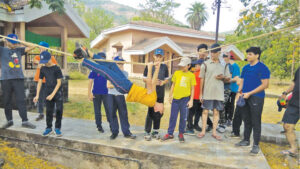 Each day would begin with exercises followed by flag hoisting, uniform and room inspection so that boys understand the importance of cleanliness and orderliness. Morning activities included stunts like monkey crawl, climbing rope ladders and rappelling to instil courage and toughness in the boys. Afternoons provided training in first aid, rescue techniques, stretcher drill and learning knots and compass. Various quiz competitions were conducted and winners were awarded marks and badges as mementos.
Evenings comprised games of baseball and star gazing at night through a telescope and educating boys about planets and constellations. Night games played in pitch darkness ingrained fearlessness in young minds. Every night boys would gather in the prayer area for kashti and Sarosh Baaj prayers followed by a devotional monajat 'Jaya Zarthost' in praise of Prophet Zarathustra thanking Ahuramazda for a safe and enjoyable day. The campfire on the final night was the cherry on the cake, where boys would indulge in merry-making.
Thanks is extended to Mr. Dali Chaiwalla – the sanatorium manager for the hospitality and for providing meals throughout the camp.
Latest posts by PT Reporter
(see all)