On 5th June, 2022, dynamic and gorgeous business woman and industrialist, known in our community for her passion towards Community and Social Service – Yasmin Jal Mistry, was crowned 'MRS. WORLD INTERNATIONAL', at the 2022 edition of the prestigious 'MRS. WORLD INTERNATIONAL BEAUTY PAGEANT', in a star-studded, extravagant grand finale held at a five-star hotel, in the heart of India's fashion capital – Mumbai. Beating her fellow 52 finalists to win the Pageant, Yasmin Mistry was also crowned 'MRS. PHOTOGENIC'.
The Pageant, which opened its registrations in February this year, saw over 450 beautiful women of Indian origin, from across India as well as the world, participate in this premiere beauty pageant for married women, which was organized by 'Glamour Gurgaon' – founded by Barkha Nangia – renowned beauty entrepreneur, reckoned as India's leading visionary and new age businesswoman in the world of beauty and fashion. The auditions for MRS. WORLD INTERNATIONAL were held in Delhi-NCR, Mumbai, Ahmedabad, Bangalore, Kolkata, Hyderabad, Lucknow, Jaipur, Dubai, London, New York, and Melbourne till May 2022.
The contestants were put through extensive grooming sessions from 1st to 4th June, to prepare for this competition. The gruelling grand finale tested them in several rounds, with eminent judges scoring them on multiple attributes like Confidence, Personality, Stage presence, Ramp-walk, etc. The jury panel comprised renowned celebrities including Madhurima Tuli, Deepika Singh Goyal, Pooja Desai, Akash Aggarwal and Megha Sarpal. The Pageant's Direction and Choreography was done by ace Choreographer – Shie Lobo.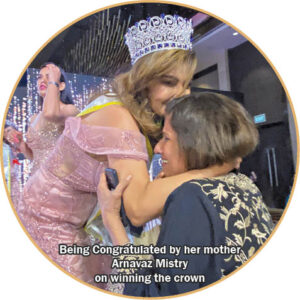 Thrilled and ecstatic on having won the Pageant, Yasmin Mistry said on the occasion, "By the grace of God and the blessings of my late father and the constant love and support of my mother, I have been able to achieve this success. Winning 'MRS. WORLD INTERNATIONAL' feels surreal – it's been a long, gruelling week of rigorous trainings and numerous sub-contests, but I'm thrilled that all the hard work finally paid off!"
The 'MRS. WORLD INTERNATIONAL' platform aims at providing opportunities for married women in India and the world over. Founder Barkha Nangia said, "I believe nothing can stop women from reaching new heights and setting new milestones for themselves, if one is truly passionate about it. Age is just a number, what counts is your efforts and your approach toward your goals. Many of the participating finalists and winners will go on to be recognized for their brilliant work in modelling, acting, theatre, fashion, commercial advertisements, web-series, brand endorsements, music videos and more."
Celebrity Judge, Madhurima Tuli, said, "Every participant came with her own set of skills, spectacular charisma and confidence. It's a myth that women cannot or must not focus on their careers after marriage. We saw a live example of all the finalists who performed on stage with the best of their abilities. All the participants broke several social stereotypes! I congratulate all the winners and participants."
As part of a CSR initiative, the platform aims to bring awareness about breast cancer among women and annually organizes camps and free medical check-ups for the less educated and underprivileged section of society. Through this initiative, women are educated about how to detect the symptoms of this disease and staying cancer free, through medical camps and a dedicated team of doctors who perform check-ups.
'MRS. WORLD INTERNATIONAL' celebrates the success of women and provides them with the platform to demonstrate their talent and beauty to the world. This unique pageant facilitates aspiring and ambitious women to take the leap and gain global fame. The competition empowers women from all walks of life to stand boldly on a worldwide scale. The main mission of this Pageant is to motivate and inspire millions of married women to think big and manifest higher goals.
 Parsi Times caught up with our community's fire-brand beauty-queen, Yasmin Mistry, who also is the Founding Trustee of ZTFI (Zoroastrian Trust Funds of India), the community's leading non-profit organisation which caters to the cause of the less privileged:
PT: How does it feel to have won the 'MRS. WORLD INTERNATIONAL' Pageant?
Yasmin Mistry: It truly is a great feeling – I feel a sense of appreciation and I feel rewarded for all the hard work that went into winning this pageant. I've been looking forward to be part of a meaningful platform like this which truly empowers and celebrates all women… and to have come out on top of it all, is another level of achievement that I feel. But more than all else, I feel like I now have a wider platform which I can put to good use for the various causes that I advocate and stand for.
 While Community Service and Women Empowerment have always been causes close to my heart, and I will continue to work on these through ZTFI (Zoroastrian Trust Funds of India), I wish to create further awareness about issues which need greater attention today, like protection against Child Molestation.
 PT: What made you participate in this Pageant?
Yasmin Mistry: I saw the work done by this pageant and the causes that it stood for and it was an authentic platform, which truly celebrated women, while advocating the important cause of spreading much needed awareness of Breast Cancer as well as holding medical camps for the poor. After speaking with the organisers at length, I was convinced this would be a good platform and I decided to give it a shot.
PT: What kind of preparations did it entail?
Yasmin Mistry: A lot of work was done in a short span of 4-5 days. From over 400 contestants from across the world, only 20 were selected and of these, only 13 made it to the Grand Finale. The journey from the Zonals to the semi-finals and the Finale has been one which has been very enriching on a lot of levels. It's been an amazing experience that I will cherish for life. Numerous seminars were conducted by experts including Sabira Merchant and other eminent connoisseurs in the field of fitness, health, beauty and fashion. The one thing that I truly learnt was patience. I grew a deep sense of admiration for so many women, each one special in her own right – as corporate professionals, entrepreneurs or housewives. They had come down from all corners of not just India, but from across the world and it was inspiring to see their passion and their dedication towards realising their aspirations.
PT: Tell us about your previous stints with the beauty sector.
Yasmin Mistry: I have been part of the Fashion and Modelling sector since I was 17 years old. I won the 'Supermodel India' contest at age 19, in Delhi. I was also 'Miss Gujarat'. Some of the brands that I have modelled professionally for include Raymonds, Sunsilk, Lakme, Tribhuvandas Bhimji, Godrej and lots more.
 PT: What kept you going strong through the contest?
Yasmin Mistry: My mother, Arnavaz Mistry, has been my greatest strength and support through my life, and even in this case, it is her love and support that saw me through the Pageant and made me win it. Her constant presence through her inspiring and empowering messages kept confident and going strong. She has been my pillar through it all. And of course, my constant source of peace and motivation comes from our prayers which truly made me feel protected, strengthened and blessed.
 PT: What message would you like to share with women?
Yasmin Mistry: I want to tell all women to take good care of yourselves – you are ready to conquer the world. Just because you are married, do not let yourself go – focus on your mental and physical well-being and your raison d'etre or your career. Age is just a number – you are beautiful, and nothing can stop you from realising your highest potential, if you set your mind to it and prioritize your goals in life.
PT: Any parting words for our community?
Yasmin Mistry: I thank you for the love and the appreciation that I have received ever since the news-break of my winning the pageant. Your love and support makes a huge difference to me and I couldn't have asked for more! Stay safe and stay blessed!
Latest posts by PT Reporter
(see all)