The hon'ble Supreme Court of India has permitted carrying out the practice of Dokhmenashini for deceased Parsis who were victims of COVID 19, with the condition that they consigned to a separate Dokhma, which should be covered with a bird net to ensure that the birds do not disseminate the remains in open space.
In view of the above directions, the Ahmedabad Parsi Panchayat (APP) complied with the arduous task of fixing a steel wire net on one of its Dokhmas at the Doongerwadi located at Jashodanagar, Ahmedabad. The said Dokhma has been earmarked for Dokhmenashini of Parsis who have succumbed to COVID19.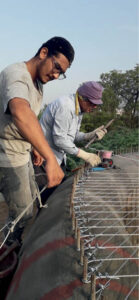 This herculean task was executed by a diligent team of volunteers (mainly from Mumbai), under the guidance of Bomi Mistry and his team (comprising Cyrus Bacha, Nozar Sutaria, Khushroo Bharucha, Burzin Mandviwala, Sarosh Gandhi, Vaish Bhopti and Ardaviraf Karbhari), which worked long hours through the day, for a week. Working under sweltering heat conditions, atop a 15 feet ladder, the job was done by them within the stipulated time, thus providing commendable community service. Brig. (Retd) Jahangir P. Anklesaria, VSM President Trustee of APP, Committee members – Hoshang Karanjia and Sarosh Karkaria and all the nassesalars (pall-bearers) were also devoted to the entire project, from dawn to dusk.
A similar task was earlier carried out in Mumbai and Surat Dokhmas too.
Latest posts by PT Reporter
(see all)