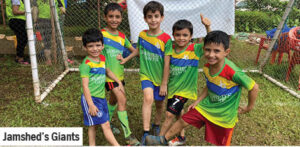 After a 4-year wait, XYZ was back with its exciting 'Monsoon Games', on 24th July, 2022. 300 participants from XYZ's 8 groups across Mumbai converged at Rustom Baug grounds at 9:00am, and were divided into 4 age-groups – 'Under-7' (6 teams); 'Under-10' (11 teams); 'Under-13' (9 teams); and 'Under-17' (9 teams). In addition, the XYZ SENIORS (youth group) comprising 6 teams, also participated in a separate tournament.
The Throwball finals in the Under-17, was filled with cheer as finalists – Cyrus' Superstars and Darius' Daredevils played their level best, with the former winning the same after a deciding match. After several nail biting matches in kho-kho, handball, football, throwball, bucket ball and dodgeball, Jamshed's Giants emerged as the overall winners.
"The day entailed laughter and sportsmanship in true XYZ fashion and we look forward to many more of these activities to bring the community together. Special thanks to the Sir Ness Wadia Pavilion and the Rustom Baug Association for their support,' said Hoshaang Gotla, Founder, XYZ.
Latest posts by PT Reporter
(see all)