Today, 13th August, 2022, marks the Remembrance Day or Death Anniversary of Indian brave-heart – nationalist, political activist, and advocate for women's rights – Madam Bhikaiji Rustom Cama (September 24, 1861 – August 13, 1936). Marking 75 years of Indian Independence, 2022 is a landmark year in our nation's history. In commemoration, the government has launched the 'Har Ghar Tiranga' initiative, under the aegis of 'Azadi Ka Amrit Mahotsav', to encourage people to adopt a cohesive spirit towards nation building… which was the same spirit that Madam Bhikaiji Cama displayed when she unfurled the first version of the Indian national flag (a tricolour of green, saffron and red stripes, which she co-designed with Shyamji Krishna Varma) at the International Socialist Congress, held at Stuttgart, Germany, on 21st August, 1907.
In the presence of one thousand global representatives, she proclaimed, "Behold, the flag of independent India is born! It has been made sacred by the blood of young Indians who sacrificed their lives in its honour. In the name of this flag, I appeal to lovers of freedom all over the world to support this struggle."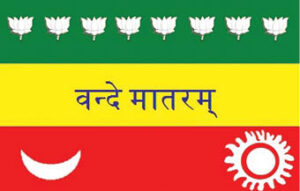 This version of the Indian flag displayed eight blooming lotuses within the top green stripe, representing pre-Independence India's eight provinces. 'Bande Mataram' was written across the central saffron stripe in Hindi. The bottom red stripe had a half moon to the right and a rising sun to the left, indicating the Hindu and Muslim faith. The same flag was later smuggled into India by socialist leader Indulal Yagnik and is now on display at the Maratha and Kesari Library in Pune. This first flag served as a template for the final version of the flag that we now revere, our beloved Tiranga.
Often referred to as the 'First Lady Of Indian Independence' Madam Cama endeavoured to focus the world's attention on India's freedom struggle and the poverty, starvation and oppression that Indians faced, under British Raj. She appealed globally for support in India's struggle for autonomy from the British. At a time when the British were coming down heavily on revolutionaries, Madam Cama's actions and words were akin to treason. She was exiled to Europe for 33 years.
Early Years and Social Service: Her presence in Europe since 1902 was also related to her selfless, social work which was deeply ingrained in her by her parents – Sorabji and Jaijibai Patel. Born into an affluent family, she had access to education – she studied at the Alexandra Native Girls' English Institution. This was around the time when the Indian Nationalist Movement was gaining ground and Bhikaiji was very influenced by the pro-national sentiment.
However, she married a staunch British rule supporter, lawyer Rustom Cama, on August 3, 1885. He had political aspirations and his wife's leanings towards the Indian Freedom Struggle created a rift between the couple. She continued pursuing her social work. When Bombay faced its first famine and later the bubonic plague in October 1896, she aligned with a group working out of Bombay's Grant Medical College to care for the victims, and in doing so, even contracted the plague. Though she survived, it left her very weak and so she travelled to Britain in 1902 for treatment.
A Significant Member of the Nationalist Movement: While she was in Britain, she was influenced by such Nationalist leaders like Dadabhai Naoroji, known as the Grand Old Man of India, Singh Rewabhai Rana as well as Shyamji Krishna Varma, who founded 'Indian Home Rule Society' (IHRS) in 1905. The British issued an ultimatum stating that she would be allowed to return to India only if she signed a statement pledging to not participate in the nationalist movement. She refused, and later that year, moved to Paris, where she co-founded 'The Paris Indian Society,' as a branch of IHRS, along with Munchershah Burjorji Godrej and S R Rana. Her home became a refuge for many world revolutionaries and was also visited by Lenin.
Cama was responsible for writing revolutionary literary works for the national movement which she published in Switzerland and the Netherlands, before distributing them. These included 'Bande Mataram' and the Indian Nationalist journal – 'Madan's Talwar' – named after Indian revolutionary independence activist, Madan Lal Dhingra, who had assassinated William Hutt Curzon Wyllie.
Women's Liberation: Bhikaiji Cama had famously quoted, "Do not forget the important role that women play in building a nation." She strongly advocated gender equality and believed that women deserved equal rights as men in independent India. Once while speaking at National Conference at Cairo, Egypt, in 1910, she asked, "Where is the other half of Egypt? I see only men who represent half the country! Where are the mothers? Where are the sisters? You must not forget that the hands that rock cradles also build persons!"
Return to the Motherland: It was in 1935, after 33 years in exile, that the British allowed Madam Cama to return to her beloved India, as she had suffered a stroke that rendered her paralysed. The 74-year-old Bhikaiji breathed her last on 13th August, 1936. Selfless to the very end, she bequeathed most of her personal assets to the Avabai Petit Orphanage for girls.
A grateful nation paid tribute to this unsung heroine of the freedom struggle and on 26th January, 1962, India's 11th Republic Day, the Indian Posts and Telegraphs Department issued a commemorative stamp in her honour. In 1997, the Indian Coast Guard also commissioned a Priyadarshini-class fast patrol vessel, named the ICGS Bhikaji Cama. While she did not get the opportunity to see her vision of free India come to fruition, nevertheless it was the relentless work of stalwarts like her which helped the nation gain its independence from British rule.

Latest posts by Razvin Namdarian
(see all)