Great News For Keratoconus Patients And Those Unable To Undergo Lasik/Smile Number Correction
Better Vision In 90 Seconds!!!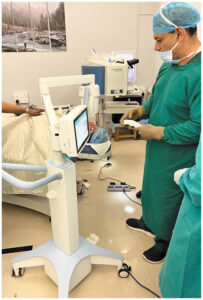 Hailed as the 'International Hero Of Indian Ophthalmology', Dr. Cyres Mehta continues his streak of 'FIRSTS', for India and for the state of Maharashtra, doing the community and the nation tremendously proud of his superlative achievements in terms of his skill as well as technology!
Keratoconus patients, as well as those who have been unable to undergo the Lasik or Smile surgery for correction of eye-number, have much reason to celebrate! In July 2022, Dr. Cyres acquires Maharashtra's very FIRST updated automated robotic AVEDRO Cornea System which restores better vision in just 90 seconds!!
Keratoconus is an eye disease where the cornea or the clear front window of the eye, due to genetic reasons, is weak and thins out and bulges. This results in the patient ending up with a very high number and bad vision, which cannot be corrected with spectacles or even Lasik. But now, thanks to Dr. Cyres' initiative, with the new automated robotic AVEDRO Cornea System, this can be resolved via a painless and automated corrective procedure, in only 90 seconds!
Explains Dr. Cyres, "Sometimes people have thin corneas, where we cannot perform Lasik or SMILE procedures to correct the eye-number. With the AVEDRO system, we can now help many of these people and do a 'Lasik XTRA' or a 'SMILE XTRA' in just 90 seconds, and gift them the blessing of good sight once again! The earlier systems called for using on the eye for nearly 7 to 10 minutes in a continuous manner, resulting in some patients developing haze and poor vision. But the state-of-the-art AVEDRO system uses a pulsed energy approach, where oxygen goes into the cornea and refreshes the cells in between pulses. Hence, there is no aftermath of haze and patients are guaranteed much better vision in a minute and a half!"
The automated robotic AVEDRO Cornea System indeed comes as a huge relief for many who are suffering with eye-disease. A quick comparison between the AVEDRO system and earlier systems highlights how the former is exceptionally more beneficial and safer:
.
.
Latest posts by PT Reporter
(see all)