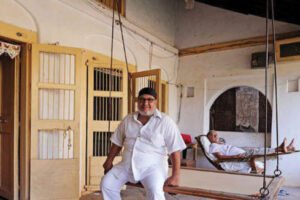 'Hearts on Fire' – a group exhibition at Chemould art gallery in Colaba, in South Mumbai, features works by thirteen artists on the nature of Parsi identity, exploring diverse ways in which the Parsi community has been visually represented.
The works of the artists, curated by Sarica Robyn Balsari, record Parsi identity as a growing concept, with photographs which emphasize contemporary images as also future possibilities, across fluid nostalgic narratives. The works present diverse forms rife with complexities, traversing linguistic, geographical, and social borders. The thirteen artists include Sooni Taraporevala, Porus Vimadalal, Farzin Adenwalla, Iyanah Batlivala, Perin Coyaji Pudumjee, Divya Cowasji, Aaran Patel, Sunhil Sippy, Shantanu Das, Avinash Jai Singh, Bindi Sheth, Hemant Chaturvedi and Jyoti Bhatt.
As per curator Sarica Balsari, "Our playful jumbling also underpins the selection to include both Parsi and non-Parsi artists in the show, whose practice incorporates documentary photography, film, cinematography, fashion and design. Ranging from staged portraits to candid moments and cinematic stylisation, the distinct methodologies and backgrounds of the artists themselves offer a powerful lens for observing Parsi identity. The choice of Chemould/Colaba as venue further speaks to the desire to provide a platform for younger artists and revisit the works from Portrait of a Community in a contemporary light. Building on this previous show, we trace a genealogy of Parsi visual representation from the past to the present. With this exhibition, we cast identity as unfinished and emergent, with photographs providing a space for unfolding possibilities."
The show, which kicked off on 10th September will go on till 15th of October, 2022 at Chemould Gallery, Colaba. The gallery is an extension of Chemould Prescott, which supports breakthrough young artists who are starting out. In addition to featuring iconic Parsi photographers like Porus Vimadalal and Sooni Taraporevala, the exhibition also throws light on breakthrough photographers Iyanah Bativala and Divya Cowasji.
Latest posts by PT Reporter
(see all)